Sri Lanka is firmly committed to the principles and objectives of the South Asian Association for Regional Cooperation (SAARC) Charter and will remain confident of the determination of the governments and peoples of the region towards fostering stronger cooperation, President Gotabaya Rajapaksa has said.

In a message to mark the occasion of the SAARC Charter Day, President Rajapaksa said Sri Lanka, as a founding member, attributes high importance to the purposes and principles of the SAARC Charter which aims to promote peace, stability, amity and progress in the region through strict adherence to the principles of the UN Charter and Non-Alignment.

He called on the SAARC nations to "enhance the effectiveness and efficiency of our cooperative mechanisms, particularly on areas which are priorities to the people of our region".

The occasion marks the day the regional body came into being after the member states signed a charter in 1985.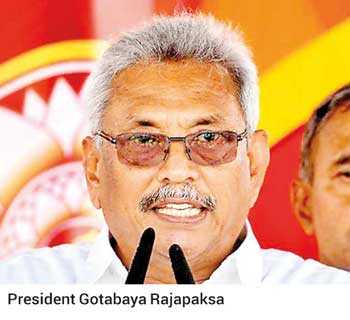 The full text of President Rajapaksa's message is given below:

"It gives me great pleasure to extend warm greetings from the people and Government of the Democratic Socialist Republic of Sri Lanka on the occasion of the 34th anniversary of the founding of South Asian Association for Regional Cooperation (SAARC) to the Governments and peoples of the SAARC Member States.

"The SAARC Charter Day provides an occasion to recall the contribution made by the founders of our Association and to re-dedicate ourselves to furthering the common goals and objectives that we have set for ourselves. Sri Lanka, as a founding member, attributes high importance to the purposes and principles of the SAARC Charter which aims to promote peace, stability, amity and progress in the region through strict adherence to the principles of the UN Charter and Non-Alignment.

"The Member States of SAARC are faced with challenges in the areas of education, food security, nutrition, poverty alleviation, and eradication of terrorism. Despite progress made in some of the key areas, these challenges continue to affect the wellbeing of large sections of our populations. As a region, we have to enhance the effectiveness and efficiency of our cooperative mechanisms, particularly on areas which are priorities to the people of our region.

"We have much to share with the world in terms of art, culture, philosophy and religion. In this regard, we are pleased to host the SAARC Cultural Centre in Sri Lanka, which is- working towards building close cultural linkages among the people of South Asia. We owe it to the future generations to protect the rich cultural heritage of our region.

"The Member States of SAARC are better positioned to provide the necessary safety networks to address major concerns such as security through forming effective alliances. The region as a whole requires to forge new avenues of cooperation to steer the organisation to be more effective in addressing the emerging challenges.

"I take this opportunity to reiterate Sri Lanka's firm commitment to SAARC and its objectives and remain confident of the determination of the governments and peoples of our region towards fostering stronger cooperation that is essential for peace, stability and economic prosperity in our region."