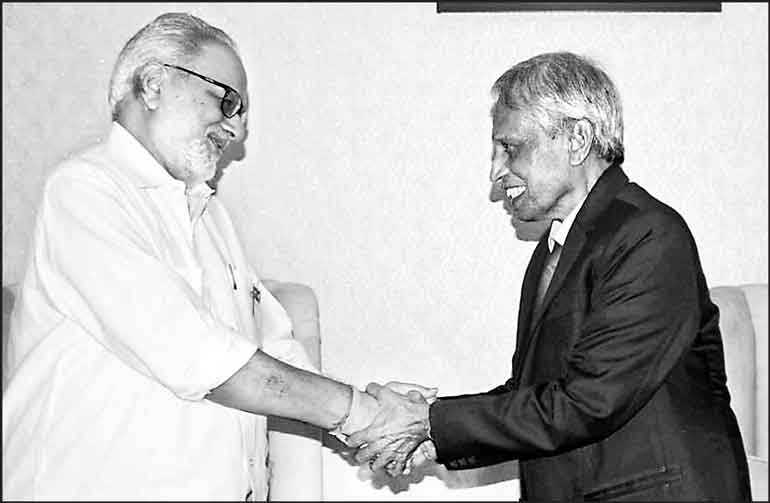 High Commissioner Austin Fernando calling on Odisha Governor Prof. Ganesh Lal
Sri Lanka and the State of Odisha in India have sought to further enhance connectivity between them, capitalising on the centuries-old strong historical linkages. The possibility of further strengthening these ties was discussed when Sri Lanka's High Commissioner to India Austin Fernando visited the State of Odisha from 24-27 August and met with State authorities for discussions.

High Commissioner Fernando was in the State of Odisha at the invitation of the Kalinga Institute of Technological

Training (KIIT) and the Kalinga Institute of Social Sciences (KISS) as the Chief Guest of the celebrations to mark the second anniversary of the University of KISS in Bhubaneswar.

During his visit, High Commissioner Fernando called on Odisha Governor Prof. Ganesh Lal, Minister of State (Independent Charge) for Tourism, Odia Language, Literature and Culture Jyothi Prakash Panigrahi, and the Chief Secretary of the State of Odisha, Asit Tripathy.

The High Commissioner's discussions with the State authorities centred on the possible ways of enhancing connectivity between Sri Lanka and the State of Odisha and promoting people to people contacts, leveraging the historical ties between the two lands. In this context, the Odisha State Government authorities requested High Commissioner Fernando to explore the possibility of starting direct flights between Colombo and the State Capital Bhubaneswar. The two sides also discussed the ways of mutually promoting the Ramayana Trail sites in Sri Lanka and the Buddhist sites in Odisha.

Attending the second anniversary celebrations of the KISS University, High Commissioner Fernando delivered a speech and later met with the Founder of the KITT and KISS Prof. Achyuta Samantha, Vice Chancellor of the KISS Prof. H.K. Satapathy, Director General International Relations Debraj Pradhan and Director International Relations Rajan Gengaje.

High Commissioner Fernando also met with the 17 Sri Lankan students who have recently entered the KITT under fully-funded scholarships awarded by the Government of India and the KITT.

The High Commissioner also visited and paid obeisance at the Bhubaneswar Center of the Mahabodhi Society of India where he met the President of the Mahabodhi Center of Odisha, former Vice-Chancellor Dr. Bimalendu Mohanty and its Secretary Dr. Sourendra Kumar Mohapatra. He also visited Buddhist sites in Bhubaneswar such as Ratnagiri, Lalitagiri, Daulagiri and Udayagiri as well as famous Hindu religious sites in Konark, Puri and Bhubaneswar: Sun Temple, Lingraj Temple and Muktheeswara Temple.

Counsellor of the High Commission of Sri Lanka in New Delhi Achini Perera was also associated with the visit and the

meetings.

High Commissioner Austin Fernando and Counsellor Achini Perera with the Sri Lankan students at the Kalinga Institute of Technological Training