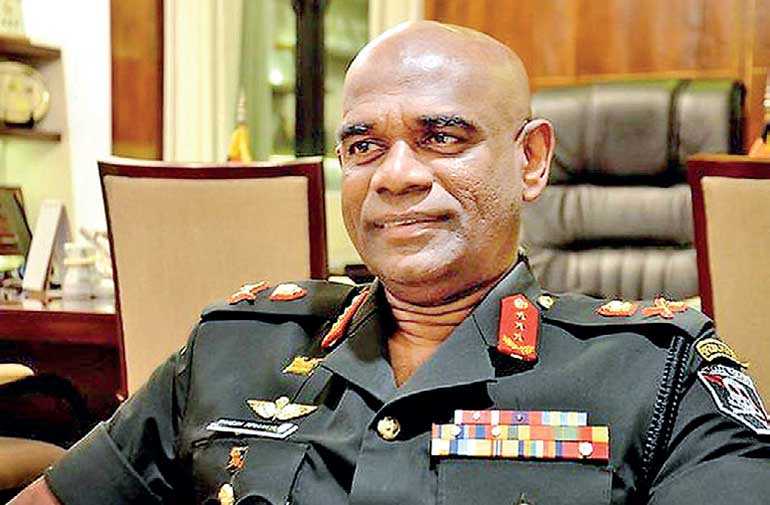 SLA Commander Lt. Gen. Mahesh Senanayake
---
By Shanika Sriyananda

Sri Lanka Army (SLA) has strengthened its intelligence network with India, following the latest Indian intelligence reports that warned of possible renewed attacks by the Islamic State (IS) terrorists.

SLA Commander Lt. Gen. Mahesh Senanayake said that the country was confronted with global terrorism, and needed the assistance of the neighbouring countries to fight against the IS.

"We are confronted with a global threat and need to join regional cooperation, government to government and military to military, to face the IS threat," he said.

Last week, three letters sent by the Indian State Intelligence Service had claimed that both India and Sri Lanka was likely to be under IS threat again, as it had diverted its focus more towards the Indian Ocean Region after they lost their control in Syria and Iraq.

"After the loss of territory in Iraq and Syria, IS is urging operatives to take up violent forms of jihad, while staying back in their respective countries," NDTV quoted a letter sent by the State intelligence to top Kerala Police officers.

In another letter, it has stated that the increased IS-related cyber-activity in the country indicates signs of terror attacks to come.

Lt. Gen. Senanayake, addressing the media at the passing out ceremony of theIntake-49 of the Special Forces held at its Training School in Maduruoya, said that the tri-forces and the Police were kept on high alert with the latest warnings from the Indian intelligence sources on renewed attacks by the IS.

"Emergency has been extended and security is fully ensured, but in any country, any attack can happen as no one can give a guarantee that nothing will happen. But we are on high alert," he said. Lt. Gen. Senanayake also said that the military was assisting the investigations by the Parliamentary Select Committee, the Police, and the Criminal Investigation Department on the Easter Sunday suicide attacks by the IS-influenced terrorists in Sri Lanka. The NDTV has said that nearly 100 people have believed to have joined ISIS from Kerala in the last few years, 3,000 have been 'de-radicalised' at 21 counselling centres across the southern State, and most of them are from north Kerala.

While strengthening the internal security, the Kerala coast has been on alert to prevent the IS terrorists from Sri Lanka entering the Kerala State since the end of May.