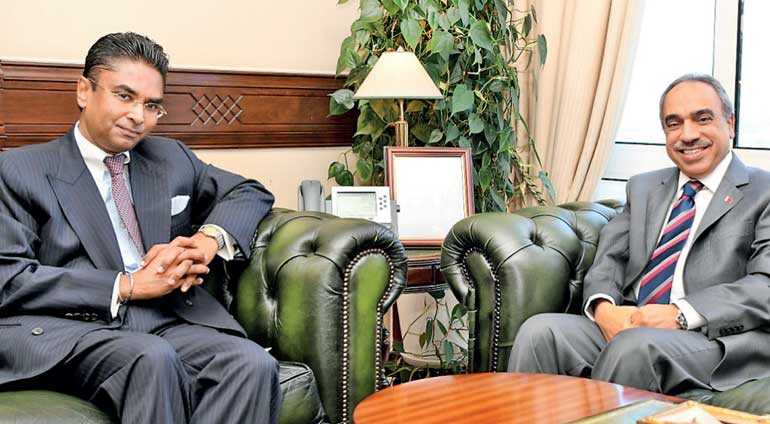 Works, Municipalities, Urban Planning, Agriculture and Marine Resources Minister Eng. Essam Bin Abdulla Khalaf with Sri Lanka's Ambassador to Bahrain Dr. A. Saj U. Mendis at the ministry's head office in Manama, Bahrain
Meets Bahrain's Minister of Works, Municipalities, Urban Planning, Agriculture and Marine Resources
Sri Lanka Ambassador to Bahrain, Dr. A. Saj U. Mendis, met with Bahrain's Works, Municipalities, Urban Planning, Agriculture and Marine Resources Minister Eng. Essam Bin Abdulla Khalaf, in order to discuss significant developments in the sphere of his vast portfolio in order to secure more skilled employment opportunities for Sri Lankan nationals.

Khalaf is one of the more senior Cabinet Ministers in Bahrain's Government and the ministry is among the most vital in the country for economic and infrastructural augmentation. This ministry also has a direct impact on the country's socioeconomic and commercial advancement, helping it achieve the National Strategic Master Plan for Bahrain by 2030.

The ministry addresses all Bahrain's infrastructure including the public road network, drainage systems, public buildings and agriculture, thus ensuring the smooth and efficacious functioning of the country.

The Minister stated that a number of Sri Lankan nationals were employed in his ministry, comprising a multitude of positions of influence and authority. He added that many Sri Lankan engineers, IT professionals, quantity surveyors, technical officers and accountants were employed at the ministry and much liked by other colleagues, both from Bahrain and other countries.

The Minister revealed that Sri Lankan skilled professionals were admired because of their commitment, integrity and competency. Both the Minister and the Ambassador agreed that for economic advancement and in order to attract foreign direct investments and institutional investments, it was imperative for the country to have a highly conducive and competitive infrastructure.

The Minister stated that in the context of the highly comprehensive and complex National Strategic Master Plan of Bahrain 2030, a number of employment opportunities for qualified and skilled professionals were available at his ministry.

He specifically told Dr. Mendis that his ministry was looking for project managers, senior engineers and charted architects with a sufficient number of years of experience. The Minister also added that a number of semi-skilled employment opportunities were available at his ministry, which held five different portfolios.

Dr. Mendis stated that during the last three decades, the largest foreign exchange earner for the country had been foreign remittances. Today, over 70% of these foreign remittances were generated from the Middle East and the Sri Lankan Government considered this region critically important from an economic and socioeconomic perspective.

He added that foreign remittances made up nearly 9% of the GDP and were comparable to the combined total remittances from garments, tourism and tea, reflecting the decisiveness of this sector.

In this respect, Minister Khalaf told Dr. Mendis that his ministry wished to take the initiative to recruit more qualified and skilled Sri Lankan nationals to work in Bahrain.

Dr. Mendis suggested that he would coordinate with Bahrain's Ministry of Labor and with the Sri Lankan Ministry of Foreign Employment in order to secure skilled and highly skilled employment opportunities for qualified Sri Lankan nationals. The Minister was appreciative of the contribution of Sri Lankan nationals to the development and expansion of the Kingdom, adding that Sri Lanka today was on a rapid economic trajectory with absolute peace, harmony and stability, which unfortunately could not be witnessed in many parts of the world.

He also added that tourism was a sector which Sri Lanka could focus on, competing with any country given its touristic attributes.

Both the Minister and Ambassador underscored the significance of any given country to have an advanced and developed infrastructure, in all spheres, to be a rapidly developing economy leading to an advanced economy. The Minister accentuated the fact that an efficacious road network could lead to the development of the entire region or area with economic and commercial activity and most importantly, connectivity.