In this exclusive interview, Rotary Sri Lanka and Maldives 2020/21 Governor Ajith Weerasinghe shares some key insights to his organisation's initiatives and progress in becoming relevant and contemporary.
---
Following are excerpts:
---
Q: What was your initial reaction on the year gone by?
It's been a tough year but if we look back, we realise that the usual norms by which we administer and lead Rotary could not be used. Each of us had to innovate, we had to be creative, we were forced to be entrepreneurial and finally we had to be fearless. We implemented over 8,000 projects in total – Interact, Rotaract and Rotary. Given the pandemic the relevance of Rotary in society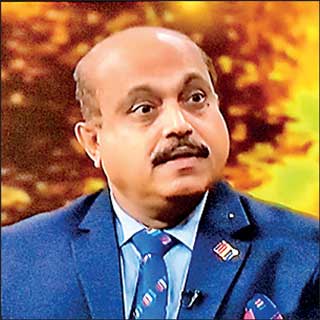 Ajith Weerasinghe
---
increased whilst we also had to be contemporary to connect with society.
Q: How did Rotary became relevant and contemporary?
Rotary membership increased by almost 400+ making it one of the best years for Rotary. This is why I said when a service organisation becomes relevant and contemporary with the times one is living in, more people like to be part of it, even though we know that many people in Sri Lanka had job cuts and some were being laid off by organisations. Our youth entities – Rotaract crossed 8,100 members with 84 clubs registering a growth of 30%. Interact achieved a net increase of 12 clubs to a total of 92 which is a strong performance for the brand Rotary. There are three prospective clubs from Interact Maldives that need to be chartered too.
Q: What was the biggest win for your year?
Let's accept it, it's the deadliest virus that the world has seen. Almost four million dead and 180 million infected. Sri Lanka is at 2,700 deaths and 245,000-odd infected. When I took over Rotary my initial objective was to ensure we (Rotarians, Rotaractors and Interactors) will not be part of these statistics due to the pandemic. I selected a project called 'Stop the Spread' which is a social advocacy project that instilled the 'new normal behaviour' among our network (Rotary, Rotaract and Interact) and the immediate community around us. I made this project mandatory as a national project which was implemented by the total membership of almost 15,000 that gave stature and weight as it was evaluated monthly.

We did this project in partnership with 280 brand ambassadors – who were the top sportsman/sportswomen in the country linked to the National Olympic Committee of Sri Lanka. The athletes included five former Sri Lanka cricket captains, two rugby captains, Olympic medallist Susanthika and the rest all South Asian Gold medallists. They took the message of – social distancing, wearing a mask, checking one's temperature regularly and good hygiene habits. This project got strong traction on social media and our network.
Q: How successful have you been as the pandemic is uncontrollable in Sri Lanka?
I come from the world of business and I like challenges. I wanted to make sure that our network (Interact, Rotaract and Rotary) changed their behaviour with this project and was protected from the COVID-19 virus that would extend to their immediate family and community. I can boldly say that this KPI was achieved as we had very few COVID-19 cases among the 15,000 Interactors, Rotaractors and Rotarians and zero mortality rate in our network.

This is in spite of doing 8,000+ field projects across the country that involved a strong community engagement. I took a risk by approving these projects that can be valued at around Rs. 400 million+ but then again, we are Rotary and we are here to serve. Our motto is service above self – I am happy to have given leadership to these projects.

But you are right, as a nation we are in very challenging times with almost 40 deaths daily and two to three thousand inflicted with the virus. But that is the nature of this beast that not only Sri Lanka is challenged with but the whole world.
Q: Tell us about the projects implemented.
Rotaractors have implemented around 2,880 projects once again across the country with 62 major projects on the theme 'Stop the Spread.' Four projects made it to the top 10 of the Rotaract South Asia competition and one went on to win the Rotaract project of the year. The Interactors gave leadership to the communication campaign with the athletes whilst explaining the MOH/WHO protocols to the retail outlets in the vicinity of the schools.
Q: We saw a lot of media publicity on the partnership project with SLSI.
This was an innovative project where Rotary conceptualised an audit system to make an organisation develop systems to help stop the spread. It was branded 'COVID-19 Control Environment Certification' that was implemented with Sri Lanka Standards Institute (SLSI). Over 200+ companies have been certified and as we speak, companies are re-applying for the re-certification for the second year which is an indication that it helps to 'Stop the Spread'.

The Project Director Rohantha Athukorala went on to be selected by Rotary International as one of the six 'People of Action' awardees globally – a first where a Sri Lankan has been rewarded by Rotary International which incidentally has a non-voting seat in the United Nations General, Assembly.

This project brought Rotary media mileage in excess of 50 million+ in rupee value which is what you saw, whilst the partnership equity with companies across sectors have made brand Rotary 'relevant and modern'. This project belongs to the people of Sri Lanka now and Rotary, Rotaract and Interact and must continue to roll this out in the next couple of years, not only companies but universities and schools so that the behaviour becomes a way of life, it becomes systemic in nature.
Q: Any other projects?
Given the issue in Sri Lanka is the degrading value system we also came out with a project called 'Little minds strong values' that was driven with music and art where value building among children was done in a holistic manner. The innovative virtual international interact cultural exchange staged by the Rotary Club of Colombo was very interesting and got the attention of the RI President too.
Q: What about the vaccination program?
Given that Rotary drives the polio-free world agenda – and we supported the governments around the world to eradicate polio (98% done except a small part of Afghanistan and Pakistan) we want to complete this task. It was a corporate decision taken at the global level. But we advocate the change of behaviour to get yourself immunised by the different vaccines available. Rotary supported the initial efforts in the Western Province by providing logistics and support infrastructure. Now, the program is getting more streamlined. We urge the Government to focus on the people above 60 years as this is the age group that has the highest mortality rate in Sri Lanka and globally.
Q: Parting words?
I would like to thank the Rotary membership for the hard work done which was based on the DNA of service above self and has made brand Rotary relevant and contemporary. Whilst thanking our partners, I would like to wish every one of you to be safe and healthy. I think the project Stop the Spread must now move to a wider society, maybe with the support of organisations like UNCEF.