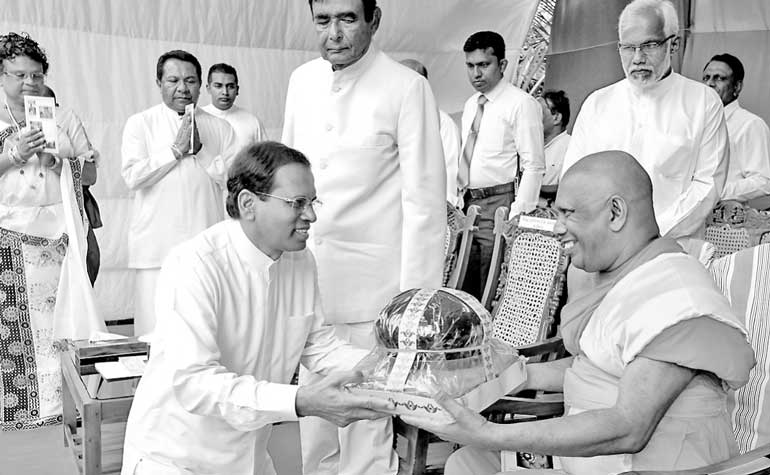 A religious ceremony was held with the participation of President Maithripala Sirisena at the Wariyagala Sri Tissarama Viharaya, Galaha, Kandy, on Thursday to present the Scroll to the Chief Incumbent of Wariyagala Sri Tissarama Viharaya, the Vice President of Doluwa Sasanarakshaka Bala Mandalaya, All-island Justice of Peace Most Ven. Helboḍagama Sugathadhirabhidana Nayaka Thero for being elevated to the position of Kandyan Region Deputy Chief Sanganayaka with the Honorary Title Wimalakeerthi Sri Dhammarathana.

The President who visited the temple first engaged in religious observances and obtained blessings.

Later, the President joined the ceremony. During the ceremony the former Prime Minister D.M. Jayaratne presented the Sannaspathra (Scroll) to new Maha Nayaka Thero and the Central Province Chief Minister Sarath Ekanayake presented the Vijinipatha (the traditional fan) to the Nayaka Thero.

The President offered Ata Pirikara to the new Chief Sanghanayaka Thera.

Most Ven. Helboḍagama Sugathadhirabhidana Nayaka Thero presented a memento to the President.

The Maha Sangha including Most Venerable Vedaruwe Upali Thera, Most Ven. Embilmeegama Pannakiththi Thera, Minister S.B. Dissanayake, Governor Central Province, Niluka Ekanayake, Chief Minister Sarath Ekanayake, Ministers and MPs and others participated on this occasion.