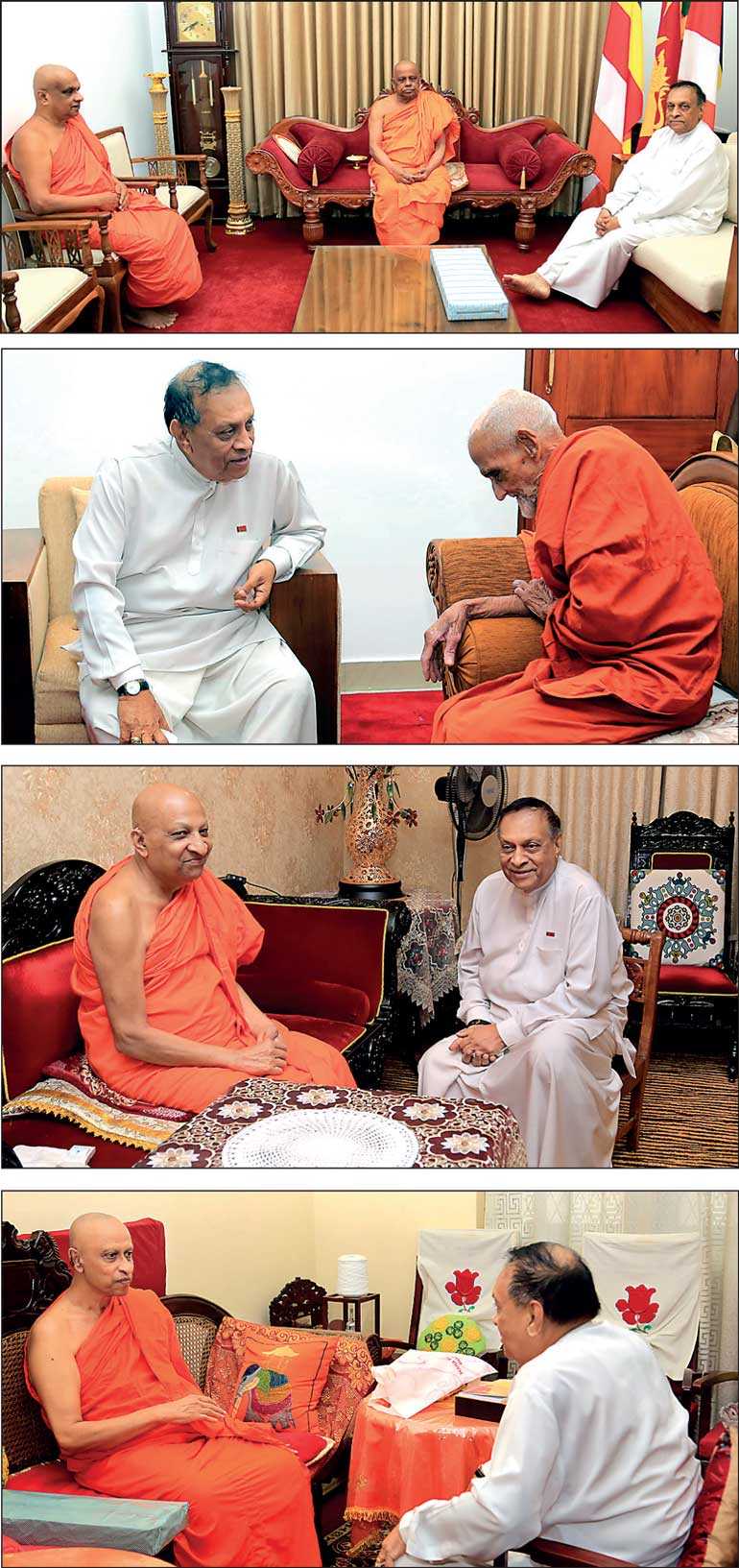 ---
Speaker of Parliament Karu Jayasuriya this week said he was ready to provide support in safeguarding the unity and discipline of the United National Party within the limits of his role as the Speaker.

Speaking to media after visiting the Chief Prelates (Maha Nayakas) of the three Buddhist Chapters on Thursday, Speaker Jayasuriya said he will support the good work of the current Government while working to safeguard democracy in the country.

Speaker Karu Jayasuriya first visited the Chief Prelate of the Malwatte Chapter Most Venerable Thibbatuwawe Sri Siddhartha Sumangala Thero, and after receiving his blessings, called on the Chief Prelate of the Asgiriya Chapter Most Venerable Warakagoda Sri Gnanarathana Thero, and received his blessings. Thereafter, the Speaker visited the Chief Prelate of Ramanya Nikaya, Most Venerable Napane Premasiri Thero at Hurukuduwa Vidya Sagara Pirivena in Menikhinna.

Speaking further, the Speaker said the Chief Prelates had emphasised the importance of protecting the unity of the UNP when it comes to democracy.

"I accept the advice of the Maha Nayakas. As the Speaker of Parliament, there are certain limitations when involving in politics. While paying attention to the limitations and safeguarding democracy, I will work towards protecting the unity and cooperation, as well as discipline, of the United National Party," the Speaker said.

Jayasuriya stressed that as the Speaker of Parliament, he is working for the upcoming General Election, and that there should be free and fair elections in the country. He also said that independent commissions helped to hold the last election free and peaceful.

Jayasuriya pointed out that the Elections Commission is working to ensure that the forthcoming elections would be held the same way, and had made certain proposals. He said it is important to support the Election Commission in their task.

When asked whether the UNP was focusing on gaining the confidence of the Sinhala Buddhists, he said that as the Speaker, he is not involved in politics.