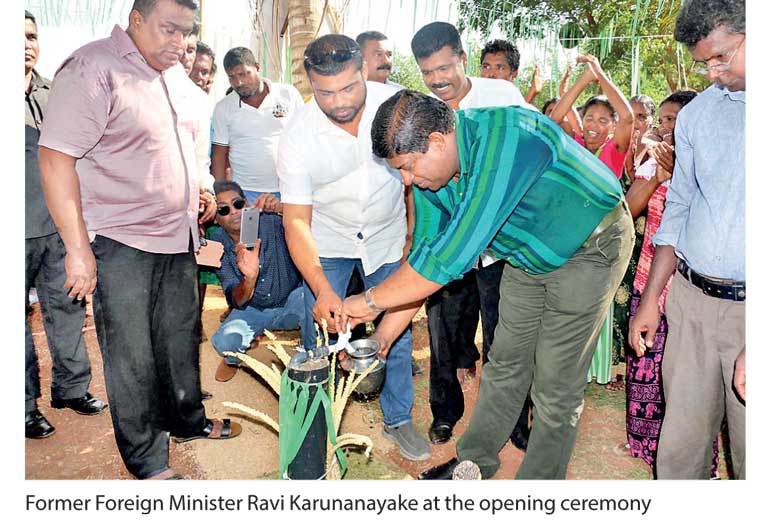 The country has faced a difficult time in achieving its targeted goals because certain groups continue to hinder the Government, believes former Foreign Minister Ravi Karunanayake.

MP Karunanayake expressed these views at a ceremony held to open a drinking water supply project in Mihintale, Galkulama, Halmillawa and Sattambikulama on 31 August. About 200 families in these villages will benefit from this water supply project built at the expense of the Government.

Karunanayake said that no room will be left to crush the people's mandate given by the masses on 8 January 2015. He said the Unity Government concept is novel to Sri Lanka and the development program launched by President Maithripala Sirisena and Prime Minister Ranil Wickremesinghe to take the country forward has been strengthened today. Karunanayake said that GDP was 10.1% when he took up the Finance Minister portfolio and he was able to increase it to 16% during his tenure as the Minister of Finance. He said he was able to increase Government revenue by increasing the revenue of Sri Lanka Customs, the Excise Department and the Inland Revenue Department.

As a result of the growth of public revenue, the Government was able to pay salaries to government servants and offer an increment to security forces personnel. Therefore the burden of paying public workers' salaries was not put on the people by this Government, Karunanayake said.

''President J.R. Jayewardene had a development plan for the country at that time and, simultaneously, current Prime Minister Ranil Wickremesinghe also has a development plan for the country today. We should recollect how former President Jayewardene found timely solutions to the issues created when the Mahaweli Development Project was introduced. The country was taken forward due to the farsighted policies of political leaders such as J.R. Jayewardene, Ranasinghe Premadasa, Gamini Dissanayake and Lalith Athulathmudali. A group of politicians who plundered public funds in the millions when they were in power at that time are striving today to move no-confident motions against the minister of the current Government. Some politicians who ruined public money in the past regime have brought a no-confidence motion against Health Minister Rajitha Senaratne who reduced drug prices by 100%. We should remind them that such a no-confidence motion will be defeated by even more than a two-thirds majority," said Karunanayake.

Addressing the gathering, MP Ishak Rahuman said that the assistance granted by UNP Deputy Leader Karunanayake when he was Minister of Finance for the infrastructure development in rural areas was very important.

He also said that the efforts by Karunanayake to create a better tomorrow for the ordinary people in the country were reflected through his 2015/2016 budget proposal. Several provincial councillors, former Pradeshiya Sabha members and others were present at the ceremony.