Says Wickremesinghe is ready to leave only after the party is united
Says there are diverse opinions within the party but need unity to move forward
Says final decision may not come tomorrow
New coalition being discussed
Calls for professionals and women to submit applications to UNP for nominations
Ranil Wickremesinghe is ready to renounce his party leadership but will only do so leaving behind a united and strong party, said UNP General Secretary Akila Viraj Kariyawasam at a press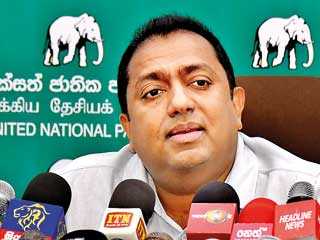 UNP General Secretary

MP Akila Viraj Kariyawasam
conference held yesterday.

Kariyawasam made the comment in response to a question posed regarding the party leadership issue which will be taken up at the party Parliamentary Group meeting to be held tomorrow.

What was needed most at this juncture is party unity, he opined, stating that as a party member, he will support any decision taken where the party moves forward in unity.

"The UNP has a constitution which it will follow, and there are diverse opinions within the party. There are calls for MP Sajith Premadasa to lead the party alone, and there are calls for Karu Jayasuriya to have a leadership role. There is also a view that Ranil Wickremesinghe with Karu Jayasuriya and Sajith Premadasa should take the party forward as a leadership team," he explained, pointing out that whatever views party members have should be discussed and settled within the party and not publicly. Kariyawasam didn't comment on if the UNP leadership issues will be resolved tomorrow, except to say that while the matter will be taken up, it was too early to predict when a final decision will be reached.

"Many prominent Buddhist monks, including some of the senior Theros from the main chapters, have expressed to me that Speaker Karu Jayasuriya should hold a leadership role," Kariyawasam stated, noting that the UNP needed to gain votes for the General Elections.

He affirmed that an idea to have Ranil Wickremesinghe remain party leader, with Karu Jayasuriya to lead an anticipated coalition for the General Elections and to let Sajith Premadasa continue as Opposition Leader has been mooted. "We are discussing with other political parties to form a new coalition for the General Elections," he added.

"We cannot allow the party to fragment. I don't think anyone who cares about the party will propose or support such a move. We will move forward with a consensus," he said pointing out that the party needed to move in a new direction and use new tactics to face the upcoming election.

Signalling a change in strategy for the UNP, Kariyawasam called on youth, professionals and women to submit their applications to get party nominations for the upcoming elections. "We call on youth, professionals and women who wish to run for office from the UNP to please submit their applications to Sirikotha (party headquarters). Come join us to make the country a better place," Kariyawasam stated. The UNP hopes to give nominations to such individuals who will be screened by a nominations board, he added.
Ranjan Ramanayake's UNP membership suspended
Ranil Wickremesinghe decides to suspend MP Ramanayake temporarily

Action taken after UNP received complaints – many in the party support action

Matter to be discussed at the working committee for endorsement

UNP will not defend Ramanayake if found to have broken the law
UNP yesterday temporarily suspended the party membership of Gampaha district Parliamentarian Ranjan Ramanayake. United National Party (UNP) Leader Ranil Wickremesinghe took the decision after a number of complaints alleging derogatory comments by and behaviour of the MP were received by the party, said UNP General Secretary MP Akila Viraj Kariyawasam at a press conference held at Sirikotha yesterday.

«The action was taken by Ranil Wickremesinghe as party leader due to a number of complaints received,» Kariyawasam added, pointing out that the matter will be taken up at a Party Working Committee for endorsement.

The fallout from the leaked telephone conversations between MP Ramanayake and senior Police and Judicial officials, his derogatory comments on Buddhism and Buddhists, and the MP›s conduct had been taken into consideration when the decision was taken to suspend him.

The UNP nominations board will decide if MP Ramanayake should be given nominations for the upcoming General Elections, Kariyawasam said in response to a question. The decision taken by Ranil Wickremesinghe was also backed by many in the party who had voiced concerns regarding Ramanayake›s conduct, he added. «This morning I had sent him (MP Ramanayake) a letter to this effect as the General Secretary of the party,» Kariyawasam stated. The UNP will not object to any inquiry regarding MP Ramanayake›s leaked recordings, he added. «If anything illegal has happened, the law must be applied to him. We will not defend him if he has broken the law,» Kariyawasam stressed.