Plans to issue Gazette with maximum price for private hospitals
Says more focus on giving public hand-outs due to elections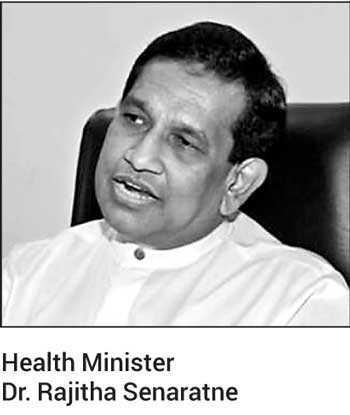 By Nuwan Senarathna

Health Minister Dr. Rajitha Senaratne yesterday said the political crisis had affected State healthcare services and reversing its effects could take as much as two years, insisting immediate steps needed to be taken to recover from the damage.

"Damage caused to the State healthcare service by the crisis which arose after 26 October is very hard to reverse. For those who were unable to get the right treatment at the right time my appointment as Health Minister is useless because the damage has already been done," Minister Dr. Senaratne said addressing ministry staff after assuming duties on Friday.

He claimed treatments for medical conditions such as cancer and heart disease were delayed due to the political crisis triggered on 26 October. "I will try my best to turn things back to normal as soon as possible," he added.

Dr. Senaratne noted he would conduct an audit to assess if losses of public funds had been incurred after 26 October. He also expressed concern that medical items such as stents imported to Sri Lanka before 26 October could have been stored inappropriately.

According to Senaratne, the Apeksha Cancer Hospital in Maharagama had been facing a shortage of essential drugs, which could have led to fatal consequences. "I heard Apeksha Hospital limited admitting patients due to a shortage of essential drugs, but this is unacceptable as it creates a serious threat to the lives of patients."

Dr. Senaratne also said a Gazette specifying a maximum fee that could be charged from patients by private hospitals, nursing homes, private clinics and private medical practitioners and specialists was delayed due to the political situation. He assured the Gazette would be issued at the earliest convenience.

Meanwhile, Dr. Senaratne noted the Government would spend more funds to fulfil short-term needs eyeing the General Election.

"We are going to spend more funds for short-term needs in the upcoming year and keep development aside for a bit because we need to focus on elections. We have learned important lessons in the last three years and we plan to implement our policies with those lessons in mind," he added.