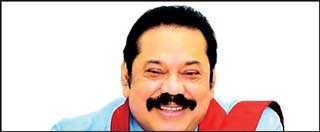 Prime Minister Mahinda Rajapaksa
---
Prime Minister Mahinda Rajapaksa will chair a new Committee to guide and monitor Sri Lanka's efforts towards achieving the Sustainable Development Goals (SDGs) set by the United Nations.
The new committee is based on a proposal submitted to Cabinet jointly by the Prime Minister Rajapaksa and Foreign Minister Dinesh Gunawardena and will comprise relevant ministers and state ministers and the secretaries of the relevant ministries for leading and pioneering and guiding the process of implementing the Sustainable Development Goals.

The Agenda 2030 for the sustainable development was approved by 193 countries including Sri Lanka at the General Assembly of United Nations held in September 2015.

The Global Sustainable Development Report for the year 2020 emphasises that it is challenging to accomplish most of the Sustainable Development Goals out of the 17 recognised goals.

Previously the Minister of Foreign Affairs appointed an active group for studying this situation with the agreement of Prime Minister. This committee had pointed out the requirement of a higher political leadership for monitoring the accomplishment process of the Sustainable Development Goals, hence the need for a new high-powered committee chaired by Prime Minister, the Government said.