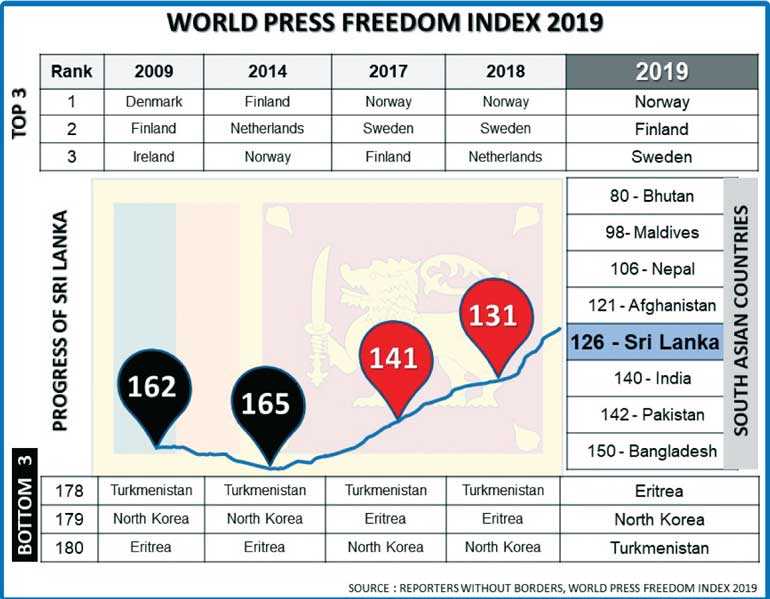 ---
Sri Lanka Press Institute (SLPI) marks World Press Freedom Day with UNESCO on 3 May under the theme "Media for Democracy: Journalism and Elections in Times of Disinformation." It is at a quite critical juncture that Sri Lanka as a country comes upon Press Freedom Day this year given the tragic incidents that took place on Easter Sunday, which once again has brought Sri Lanka's Press Freedom to a crucial focal point.

Media freedom that is vital for democracy often gets trampled under the foot of current issues that call for 'security measures' and gets compromised in various means. On the one hand journalist rights and access to free media platforms should be secured while on the other hand fair unbiased reporting that does not incite violence or hatred must be promoted. Manipulation of information, contrived photographs, ideologically prejudiced reports and false news that spread disinformation is now the biggest threat to national peace, transparency of information and reliability of the press.

The SLPI with the decree to create an informed public committed to democratic ideals, stands with UNESCO's mandate to foster freedom of expression and its outcomes; press freedom and freedom of information.

The World Press Freedom Index compiled by Reporters Without Borders (RSF) taking 180 countries and regions into account identifies the state of journalism in Sri Lanka as 'difficult' for the fourth consecutive year since 2016. This situation however is an improvement of conditions for journalists and media in Sri Lanka given the extremely unhealthy status at which it was for years before. Sri Lanka was identified as a country in a 'very serious situation' placed at 162nd position in 2009 and to have reached 126th position in 2019 surpassing India, Pakistan and Bangladesh is truly an achievement.

However, Sri Lanka still remains behind Bhutan, Maldives, Nepal and Afghanistan of the South Asian region who are ranked higher than us. The RSF index of Sri Lanka for the past decade is illustrated in the figure.

However, today, press freedom in Sri Lanka has to survive the age old challenges of intimidation, censorship, totalitarian propaganda, physical and cyber harassment while fighting disinformation which spreads like the plague. Manipulation of facts and fake news both on physical and digital media platforms threaten overall press freedom of the country. Good journalism or ethical, professional journalism is an essential in the press milieu of the country today.

The Sri Lanka Press Institute (SLPI) is a body incorporated, constituted by the Newspaper Society of Sri Lanka, The Editors' Guild of Sri Lanka, the Free Media Movement and Sri Lanka Working Journalists Association with its main objectives being 'to assist, encourage and facilitate the Press to exercise and uphold its freedom and be responsible to the Public'. The SLPI is the country's leading institution that envisages development of media in Sri Lanka through professional training and upholding ethics. It has two major divisions the Sri Lanka College of Journalism (SLCJ) which handles the training of journalists and the Press Complaints Commission of Sri Lanka (PCCSL) that operates as a mediator between the public and the media.