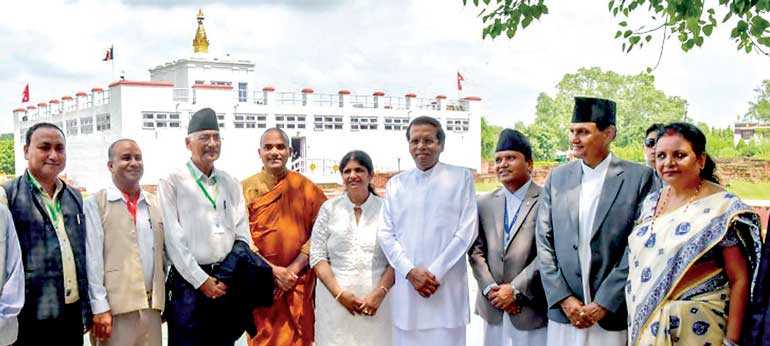 President Maithripala Sirisena, who attended the 4th Summit of the Bay of Bengal Initiative for Multi-Sectoral Technical and Economic Cooperation (BIMSTEC) held in Kathmandu, Nepal, commenced his two-day state visit to Nepal with the conclusion of the Summit on 1 September.

President Sirisena, marking his first program, worshipped at several religiously significant places, including the magnificent Lumbini, the birthplace of Siddhartha Gautama.

The Chief Minister of the Province and the Culture Minister warmly received the President when he arrived at the venue. Later, the President engaged in religious observances. The authorities had made arrangements for President Sirisena to worship in the sacred area where the Prince Siddhartha took his first step forward after birth by touching the place. This is an exceptional opportunity that no other state leader will receive when visiting Lumbini.

Ven. Galahapitiya Premaratana Nayaka Thero, the Trustee of the Lumbini Sri Lanka Maha Viharaya, performed the religious observances and invoked blessings on the President and the delegation.

Later, the President requested the officers to apprise him regarding the development activities done by the Lumbini Development Foundation, and further said that he is ready to provide every possible assistance in this regard. President Sirisena then worshipped at the Maya Devi Temple, located in the premises of the sacred Lumbini. A special memento was presented to the President at the temple.

Subsequently, the President visited the Sri Lanka Maha Viharaya, located in the premises of the sacred Lumbini. The President also paid homage to the sacred relics placed at the temple.

During this visit, the President made an observational tour of the Dutugemunu Pilgrims Rest, which is constructed for the benefit of visiting Sri Lankan devotees, and inquired into the shortages at the Rest.

A Na sapling was planted at the premises to mark the visit of the President.

Meanwhile, the President also participated the religious observances at the famous sacred Pashupatinath Hindu kovil yesterday. This temple complex was placed as a UNESCO World Heritage Sites' list in 1979.