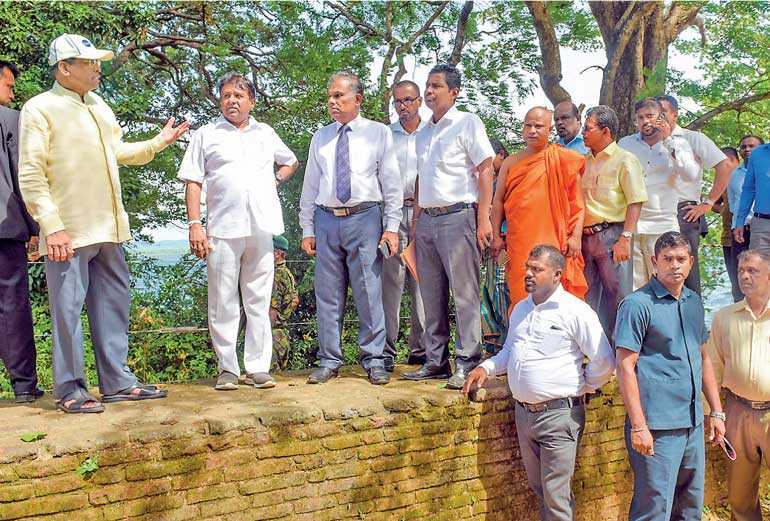 President Maithripala Sirisena has instructed the relevant officials to take action for the immediate resolution of the garbage issue near the Parakrama Samudraya in Polonnaruwa.

"The shining jewel of the historical Polonnaruwa is Parakarama Samudraya. Those who feel fatigued in the midst of a tiresome journey come near the banks of the reservoir to view the breathtaking scenery and rest their body and mind in the cool breeze that comes along the ripples of the water. But the garbage problem, which has continued for a long period of time near the banks of the Parakarama Samudraya, is currently destroying its beauty," a statement from the President's Office said.

President Sirisena, who was taking part in various programs held in Polonnaruwa, noticed this problem at Parakarma Samudraya while he was exercising.

After that, the President called the relevant officials of the site and instructed them to take immediate steps to resolve the garbage problem.

President Sirisena also gave orders to fix garbage bins properly in place and to take legal action against people dumping garbage.

President Sirisena also said that laws would be revised to solve the issue.

President Sirisena also emphasised the importance of securing the value of the Parakarma Samudrya, which is of historical value, as well as giving the people the opportunity to experience the magnificence of the place freely in a calm environment.

Further, the President also instructed officials to maintain the environment for pilgrims visiting Polonnaruwa on Poson Poya day while also providing relevant facilities for those who visit the site.