President Maithripala Sirisena last week said that the main reason for the increase in poverty in rural areas was the addiction of most people in low income families to harmful drugs.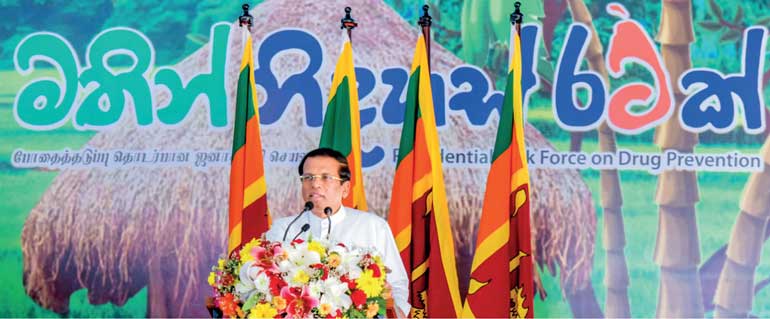 He emphasised that a special program with the support of all sectors, including the government, was essential to control this social hazard.

President Sirisena made these remarks on 23 February at the launch of the first program of the 'Gama Hada Gamu' rural program being implemented under the Mathin Nidahas Ratak national initiative at the Mahaweli Ground in Embilipitiya.

To establish a peaceful Sri Lankan society with the support of the rural community, the national 'Gama Hada Gamu' rural program implemented under Mathin Nidahas Ratak has already instituted action such as raids with the assistance of Civil Defense Committees to prevent the smuggling and distribution of drugs.

The program includes building a sustainable mechanism for drug prevention, strongly influencing illicit drug traders engaged in smuggling and selling drugs to stop their activities with the collaboration of village folk, leading individuals engaged in such work towards different industries, rehabilitating drug addicts in rural areas, providing assistance and counselling, conducting drug prevention within rural areas and making society aware of the repercussions of drug usage through awareness programs for rural folk and schoolchildren.

President Sirisena, addressing the inaugural meeting, added that when building a good society, a developed country as well as healthy people, the main challenge was abolishing drugs. He added that the programs implemented by the Government to prevent and eradicate drugs had produced good results at the national level.

The President pointed out that the significant decrease in cigarette consumption in the last few years was a huge achievement for the health sector. The President expressed his belief that the people would extend their support for this national endeavour.

Ministers Rajitha Senaratne, John Amaratunga, Thalatha Atukorala and Mahinda Amaraweera, Deputy Minister Karu Paranavithana and other ministers, district secretaries of Ratnapura, Divisional Secretariat, directors of education, other civil officers and senior members of the security forces were present at the event.