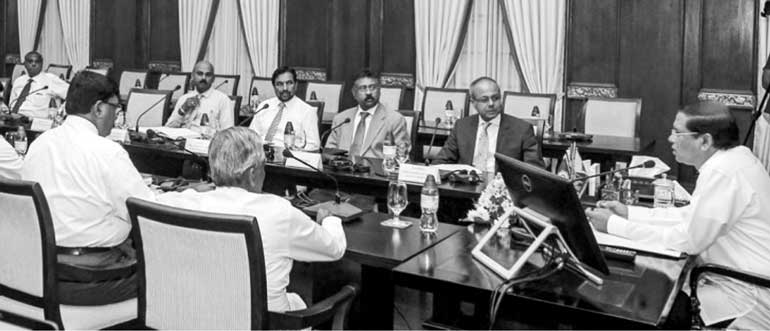 President Maithripala Sirisena directed the heads of law enforcement authorities to implement a special program, led by the police and tri-forces to prevent spread of illicit drugs in the country.

The President gave these instructions at a special meeting held on 23 August at the Presidential Secretariat to discuss illegal drug prevention.

The President pointed out although the laws have been strictly made to prevent sale and smuggling illicit drugs, their spread has been increased in some areas in the country.

He further stated that speed attention of all responsible persons of the society needed to save the young generation from this critical social challenge.

He also directed the officials to strictly carry out the ongoing program to prevent smuggling drugs into the country. He asked them to get the support from foreign countries in this regard.

The President mentioned that leaders of many countries whom he met during state visits have assured him their assistance for the drug prevention activities.

He directed the officials to implement a comprehensive program to control the drug racket which is aimed at school children.

The President assured that the Government will provide all required facilities for the program on drug prevention and will strengthen the relevant institutions.

Minister of Law and Order and Southern Development Sagala Rathnayake, Attorney General Jayantha Jayasuriya, Secretary to the Ministry of Law and Order and Southern Development Jagath P. Wijeweera, Navy Commander Vice Admiral Travis Sinniah and the IGP Pujitha Jayasundara also joined this discussion.