Govt. yet to commence investigation on voice tapes
Aluthgamage says tapes raise concerns on Judiciary impartiality
Claims tapes indicate former Govt. engaged in political witch-hunt


By Nuwan Senarathna

Government Spokesman Mahindananda Aluthgamage yesterday said Government Parliamentarians call on the President to appoint an independent Commission to look into leaked voice tapes claiming to record conversations which have taken place between United National Party (UNP) lawmaker Ranjan Ramanayake and a top State official.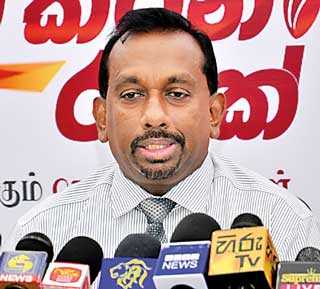 Government Spokesman Mahindananda Aluthgamage
A recording of a conversation that had allegedly taken place between Ramanayake and former Criminal Investigation Department (CID) Director SSP Shani Abeysekara, over the investigation of former MP Duminda Silva, had been released recently. Several other recordings of alleged conversations between Ramanayake and judges have also been circulating on social media.

Speaking to media at the Power and Energy Ministry, Aluthgamage said the Government has not yet decided to investigate into the alleged leaked telephone conversations. He opined the leaked telephone conversations raised concerns over the impartiality of law enforcement agencies, which could create mistrust among the public over the Judiciary.

"This is not healthy for the Judiciary. The public has started to question the impartiality of the Judiciary. Therefore as a Government we have to act fast to protect the credibility of the Judiciary, which is one of the three pillars of the State," he said.

Aluthgamage opined the telephone conversations indicated the previous Government had influenced law enforcement authorities to conduct a political witch-hunt. "All these telephone conversations prove that the previous administration had influenced officials of law enforcement agencies. One of the telephone conversations indicated that they attempted to assassinate me, which raised concerns among the public," he charged.

Aluthgamage claimed that an unknown person had left CDs of voice recordings in a three-wheeler, which had subsequently been handed over to the Mirihana police by the three-wheeler driver. However, according to Aluthgamage, some of the CDs had been left behind in the three-wheeler and some had mysteriously found their way to social media.

"A passenger forgot and left CDs of alleged voice recordings. When the three-wheeler driver handed them over to Police, he had kept a few of them and later released them to social media. The Government is not responsible for releasing those tapes to social media," he claimed.

Aluthgamage also said that he will complain to the CID over the alleged telephone conversation discussing an attempt to assassinate him. He assured that the Government will not influence law enforcement authorities on investigations.