---
Says President and Govt. should hold similar ideologies
Renews call for two-thirds majority to repeal 19A
Sri Lanka Podujana Peramuna (SLPP) prime ministerial candidate Mahinda Rajapaksa yesterday reiterated that the President and the Cabinet should represent the same political party for smooth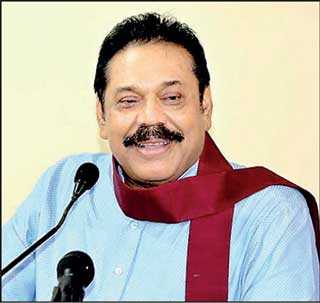 Mahinda Rajapaksa
functioning of the Government and continued development of projects.

He made these remarks at a meeting held in Baddegama yesterday. According to Rajapaksa, it would be vital for the SLPP Government to implement President Gotabaya Rajapaksa's policy statements and to achieve development goals.

"It is critical that President and the Cabinet represent the same political party. Otherwise, there will be a clash, which will affect the overall functioning of the Government and it will slow down development projects as well," he said. Rajapaksa noted the previous administration had faced challenges due to different view of the President and the Prime Minister and claimed that it led to the halt of the country's development projects.

He said the previous administration was the best example of what would be the outcome if the President and the Prime Minister were from different political parties. "If the President and the Prime Minister are from different political parties that could lead to a clash between them, which will eventually affect the entire nation. We have experienced that during the last four years. Therefore I call on the public to keep that in mind when you vote at the forthcoming General Election," Rajapaksa added.

He stressed that a two-thirds majority was required to repeal the 19th Amendment, adding that many of the issues faced by the country and the main reason for the failure of the previous administration was the 19th Amendment.

Rajapaksa assures that SLPP would repeal 19A to address its shortcomings, which according to him led to controversies during the previous administration. "A strong Government is needed to enable the President to continue his policy statement and put the economy on the right track," he added.

He also noted that they were confident that the public would elect the most suitable candidates to the Parliament, to strengthen the President and to fully implement his policies.