Renews call for two-thirds' majority to repeal 19A Pledges to revive economy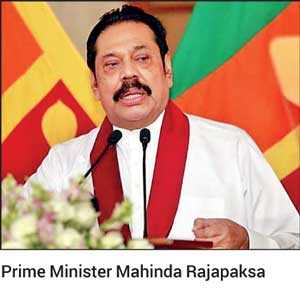 Renewing his pledges to form a strong Government to address the adverse economic impacts of the COVID-19 pandemic, Prime Minister Mahinda Rajapaksa yesterday reiterated a two-thirds majority would be needed to fully implement President Gotabaya Rajapaksa's policy statement.

The Sri Lanka Podujana Peramuna (SLPP) prime ministerial candidate expressed these views at a rally held in Kalawana. Rajapaksa noted both the President and the Prime Minister should hold similar ideologies to address challenges that arose after the COVID-19 outbreak.

He noted the understanding between the President and the Cabinet was a key element for a government to be successful and he noted that was the shortcoming of the previous administration. According to Rajapaksa, that had created issues which affected all sectors of the country.

"We have seen what has happened during the past five years. The tussle between former President Maithripala Sirisena and former Prime Minister Ranil Wickremesinghe. Their continuous disagreements affected the entire country. I hope the public is well aware of that and they will vote for the SLPP to form a strong Government," he said.

Rajapaksa noted under a SLPP Government, the President and the Cabinet would be able to work toward a common goal to develop the economy. He stressed that a two-thirds majority was required to repeal the 19th Amendment, adding that many of the issues faced by the country and the main reason for the failure of the previous administration was the 19th Amendment.

Rajapaksa assured that SLPP would repeal the 19th Amendment to address its shortcomings, which according to him led to controversies during the previous administration. "A strong Government is needed to enable the President to continue his policy statement and put the economy on the right track," he added.

Referring to infrastructure development projects, Rajapaksa pledged to resume infrastructure projects including the Ruwanpura Expressway Project. He noted that an SLPP Government would take measures to lift the living conditions in rural areas.