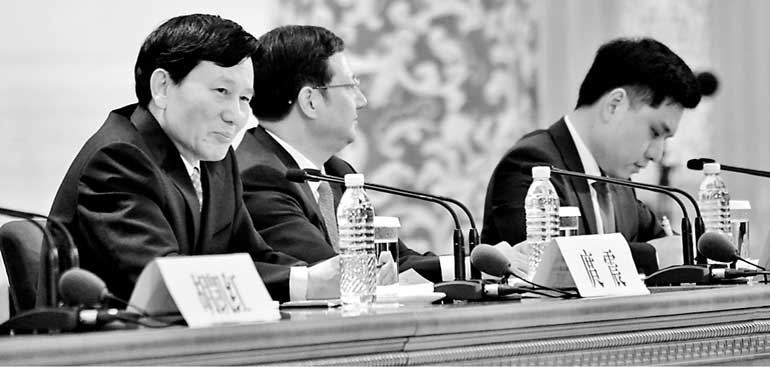 The Spokesperson for the 19th National Congress of the Communist Party of China Tuo Zhen (left) at recent media conference at the Great Hall of the People in Beijing
Text and pic by Ashwin Hemmathagama in Beijing

The remarkable and promising report President Xi Jinping presented at the 19th National Congress of the Communist Party of China on Wednesday has been prepared based on the solicitations conducted over 4,700 people representing various regions and departments, the delegates to the Party's 18th National Congress and the newly-elected delegates to the 19th National Congress.

According to 19th National Congress of the Communist Party of China Media Spokesperson Tuo Zhen, just to prepare the draft, President Xi, who is also the CPC's General Secretary has conducted six symposiums. During these meetings Xi and the party top-brass have given a keen ear to opinions and suggestions from people of various sectors and used in drafting the report.

Not limiting these suggestions to a single document, a few other reports, including the CPC Central Commission for Discipline Inspection (CCDI) work report and an amendment to the CPC Constitution are also expected to be submitted before the conclusion of the congress next week.

China has gained considerable benefits from its ongoing nationwide anti-corruption campaign. Without leaving room for any corrupt to get away at all levels, disciplinary authorities have investigated 440 officials at or above provincial or corps level of corruption, including 43 members and alternate members of the CPC Central Committee, including the nine members of the CCDI.

During his long speech, President Xi saw this action as a major help to forge cleaner governance and has so far proved effective.

According to media reports, as of 31 March, China had captured 2,873 fugitives from over 90 countries and regions, and recovered some $ 130 million and over 1,000 fugitives were brought back to China for justice in 2016. Adding more to the list of benefits, the China's anti-corruption efforts are expected to boost the confidence of both the public and the global market in the Government providing more transparency and predictability where it will no longer required to cultivate relationships before starting projects.