By Shanika Sriyananda

Despite daily media reports indicating an upward trend in crimes, including murders, organised robberies and rape, the police said that there was a decline in the number of criminal cases in the country according to its data.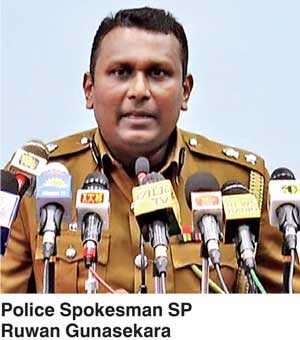 Police Spokesman SP Ruwan Gunasekara said that when the existing data on crimes was compared with the last few years, the number of crimes, including organised crimes, reported in the first five months of 2018 had recorded a decrease.

"The number of murder cases has decreased but with the increased media reportage on crimes after the war it gives a feeling that the crime rate in the country has gone up," he said.

In 2016, the number of murder cases reported was 502 and in 2017 it was 452, but in 2018 from January to May, 214 people had been killed. According to police statistics, 31 people have been shot dead during the five months of this year and it was 42 in 2017.

Over 1,730 women were raped last year and 1,667 culprits had been taken into custody. During the last five months, 734 women had been raped and the police had produced 683 suspects before the courts.

Out of the 3,366 robberies reported in 2017, the police had taken action against 2,492 cases. The police recorded 1,260 robberies in the last five months.

According to the Police Spokesman, over 14,590 people have been taken into custody for various crimes including killing, rape and robberies from January to May this year. In 2017, the police had recovered 34 T-56 guns and in the last five months the number of weapons taken into custody counts for 14 T-56s, 11 pistols, 10 revolvers and 300 other kinds of weapons.

SP Gunasekara attributed the decline in crime in the country to the increased efficiency of Police investigators due to enhanced training opportunities in criminal investigations, the usage of new technology in crime detections, deploying specially trained investigators, quality information tips on crimes received by the public and also progress made by the police intelligence services.

"Apart from these reasons, the awareness of the criminals about the efficiency of police investigations has also contributed to the reduction in the number of crimes in the country. They know we don't let them off scot-free," he said.