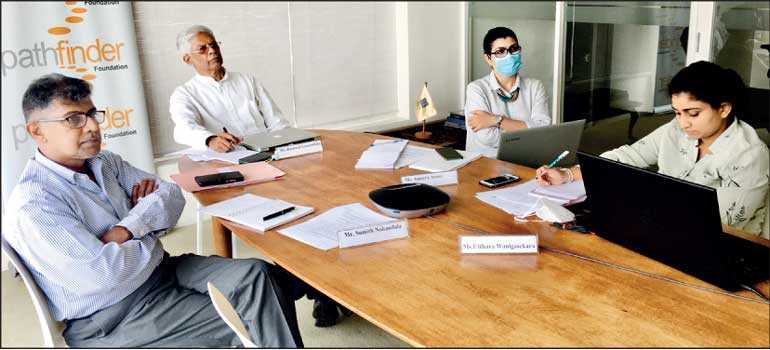 Pathfinder Foundation Chairman Bernard Goonetilleke, Centre for Indo-Lanka Initiatives Director Sumith Nakandala, Pathfinder Foundation

Executive Director Ameera Arooz, and Programs Executive Utthara Wanigasekara at the head office River Point
---
The Pathfinder Foundation together with the Vivekananda International Foundation successfully held a close-door webinar on 'Connectivity between India and Sri Lanka' on a virtual platform.
The webinar was the first event of a series of consultations, which will be held under the broad subject of connectivity between the two countries.

The two leading think tanks will embark on identifying how connectivity could broaden and deepen the existing bilateral relations in its all aspects.

Pathfinder Foundation Chairman Bernard Goonetilleke and Vivekananda International Foundation Director Dr. Arvind Gupta delivered the opening remarks. Both underlined the importance of enhancing all forms of connectivity while identifying obstacles and opportunities.

The panellists from Sri Lanka included LIRNEasia Founding Chair Professor Rohan Samarajiva, UNESCAP former Director, Trade and Investment Division and former Chief Economist for Asia and the Pacific Dr. Ravi Ratnayake, and Foreign Ministry Additional Secretary, Bilateral Affairs (East) A.L.A. Azeez.

The panellists from India included Consumer Unity and Trust Society (CUTS) International Executive Director Bipul Chaterjee, and Ministry of Commerce Additional Secretary Sanjay Chadha.
The main takeaway of the discussion was that connectivity is a fundamental factor in enhancing bilateral trade, investment and commerce, people-to-people contacts, energy, trade, infrastructure and transport.
The presentations highlighted the enormous potential for expanding connectivity networks between the two countries. The panellists also expressed the view that apart from the bilateral connectivity initiatives, regional arrangements where Sri Lanka and India are members, should be promoted in realising the larger goals of connectivity.

The Pathfinder Foundation and Vivekananda International Foundation agreed to continue their consultation process on the subject of connectivity on a regular basis, through webinars and joint publications.
Pathfinder Foundation together with the Vivekananda International Foundation live on screen
---