---
The Pathfinder Foundation recently entered into a Memorandum of Understanding with the Islamic Republic News Agency (IRNA), the official news agency of the Islamic Republic of Iran. The MoU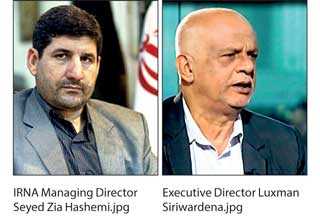 between the two institutions would facilitate dissemination of information and making public, products and services transmitted or reported by IRNA in Sri Lanka. IRNA functions under the Iranian Ministry of Culture and Islamic Guidance and has 60 offices within the country and 30 more in various countries around the world.

The MoU was signed by Pathfinder Foundation Executive Director Luxman Siriwardena and IRNA Managing Director Seyed Zia Hashemi. The signing of the MoU follows a recent milestone of the Pathfinder Foundation, establishment of the Hafez Centre for Cultural Understanding, which is located at PF's Headquarters at 'Riverpoint', Peliyagoda. The Centre was established with the purpose of studying, creating awareness and promoting cultural understanding between Iran and Sri Lanka.

The PF is a well-known independent, non-partisan research and advocacy think-tank in Sri Lanka. Building relations with Track I and Track II institutions within and outside the region and countries having interests in Sri Lanka, has been an important aspect of PF's work.

As another step toward this objective, the PF put pen to paper and signed the MoU with IRNA to collaborate and share the expertise and experiences of both institutions aimed at improving relations between the peoples of Iran and Sri Lanka.

The China-Sri Lanka Cooperation Studies Centre of the Pathfinder Foundation signed a similar MoU with Xinhua News Agency, the official news agency of the People's Republic of China in October 2017 with a view to facilitate joint publication of 'China Watch' in a prestigious local newspaper.