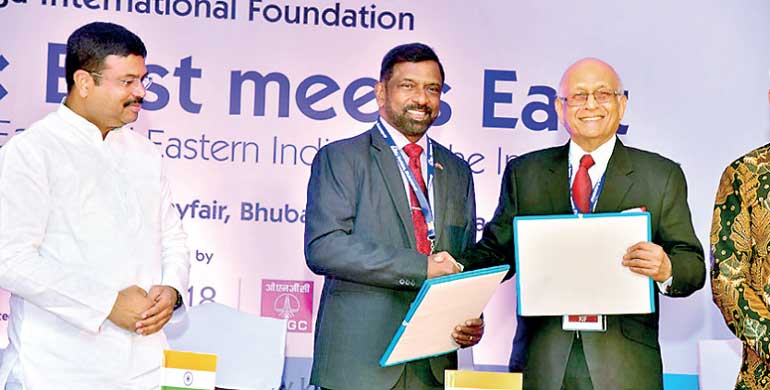 Kalinga Foundation Chairman, Ambassador Lalith Mansingh, a Former Secretary of the Ministry of External Affairs, India and Admiral Dr. Jayanath Colombage, Director of the Pathfinder Foundation's Center for Indo-Lanka initiatives and the Law of the Sea Center, exchange the MOU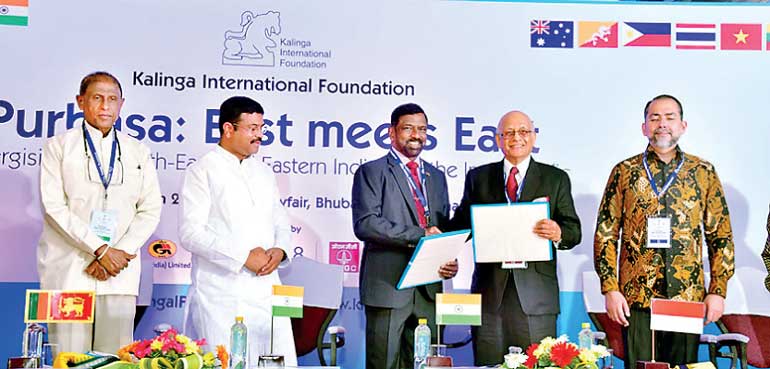 Kalinga Foundation Chairman, Ambassador Lalith Mansingh, a Former Secretary of the Ministry of External Affairs, India and Admiral Dr. Jayanath Colombage, Director of the Pathfinder Foundation's Center for Indo-Lanka initiatives and the Law of the Sea Center, exchange the MOU and Gamini Jayawickrama Perera, Minister of Buddha Sasana also at the centre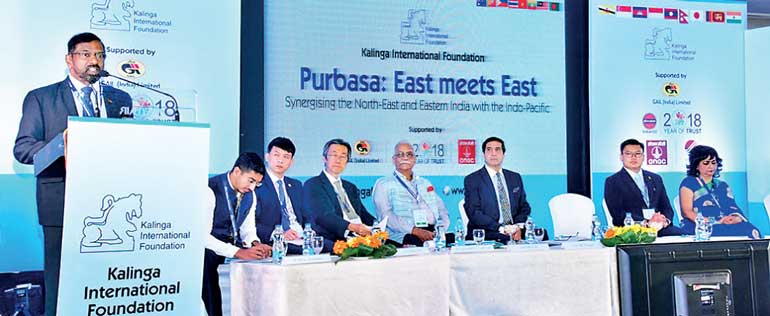 Admiral Dr. Jayanath Colombage, Director of the Pathfinder Foundation's Center for Indo-Lanka initiatives and the Law of the Sea Center addressing the Foster Inter-Civilisational Dialog in India
During the inaugural session of the recently concluded conference, 'Purbasa: Eats meet East, Synergising North East India with the Indo Pacific Oceans', held in Bhubaneshwar, the capital of Odisha, India a Memorandum of Understanding (MOU) was signed between the Pathfinder Foundation (PF) and the Kalinga International Foundation (KIF).

Kalinga Foundation Chairman, Ambassador Lalith Mansingh, a Former Secretary of the Ministry of External Affairs, India and Admiral Dr. Jayanath Colombage, Director of the Pathfinder Foundation's Center for Indo-Lanka initiatives and the Law of the Sea Center, signed the MOU. The exchanging of signed MOU was done in the presence of Gamini Jayawickrama Perera, Minister of Buddha Sasana, Sri Lanka and Shri Dharmendra Pradhan, Minister for Petroleum and Natural Gas; Skills development and Entrepreneurship, India and a host of eminent ambassadors, High Commissioners, Professors, Scholars, Subject Matter Experts representing India, Sri Lanka, Bangladesh, Myanmar, Vietnam, Brunei, Malaysia, Philippines, Thailand, Nepal and Indonesia. Sri Lankan High Commissioner Chithrangani Wagiswara and Professor Nimal De Silva, Adviser to Ministry of Buddha Sasana, Sri Lanka was also present on this occasion.

KIF is an independent, non-partisan think tank, which seeks to analyse and propose solutions to pressing issues relating to international and national security, international trade, India's foreign policy and regional co-operation. KIF aims to bring together the eastern and north-eastern region of India with proximate neighbours – Bangladesh, Bhutan, Nepal and Sri Lanka and beyond, with the ASEAN nations and the Indo-Pacific region.

In the context of India's 'Act East Policy', KIF aspires to play a catalytic role in creating valuable linkages within the region. It works collaboratively with the Central and State Governments; Chambers of Commerce and Industry; with India's missions abroad and foreign diplomatic missions in India, and other think tanks and institutions that share its objectives. The PF and KIF look forward to collaborating and sponsoring activities, which support their declared objectives. Both institutions agreed to develop exchanges and co-operation based on mutual respect, equality and mutual benefit and to involve eminent persons, leaders and experts from both sides in their common fields of interest and activities. With the objective of maximising the benefits of their co-operation, the Parties will host joint events at designated places. The nature and dates of such events will be mutually decided upon by the Parties.

Co-operation under this MOU could include, Promotion and support of activities that contribute to better understanding between India and Sri Lanka, Promotion and support for the exchange of visits by eminent persons in the fields of diplomacy, economy and trade, academia and culture, Co-sponsoring of seminars, symposiums and events on issues of mutual interest, Supporting publications relating to their activities, Establishing links between the websites of their respective institutions and other forms of co-operation as may be agreed upon by both Parties through consultations.

Admiral Dr. Jayanath Colombage representing the Pathfinder Foundation also presented a paper titled "Maritime Security and Connectivity in the Indo-Pacific Oceans: Need for a Rule Based Maritime Order". Admiral emphasised the need for a collaborative maritime security architecture and a rule based maritime order for the sake of not only Indian Ocean countries but for the whole world. Admiral presented a draft of a code of conduct initiated by the Law of the Sea Center of Pathfinder Foundation addressing threats posed non-state actors in the Indian Ocean, which has already been forwarded to the Indian Ocean Rim Association (IORA) and relevant stake holders for consideration.