Parliament must be an example of efficiency as a country that is moving towards development goals, said President Maithripala Sirisena. The President made these remarks participating in the inaugural ceremony of EvalColombo2018, held in Colombo yesterday, adding that the efficiency of Parliament has an impact on the efficiency of public service, and when achieving development targets the efficiency of all these sectors are important.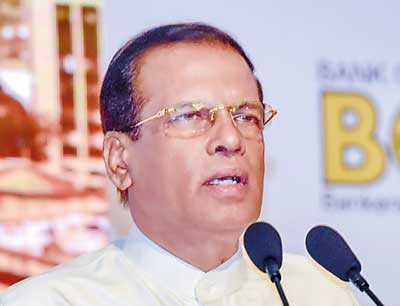 President Sirisena, addressing the inaugural ceremony, further said that the efficiency of the Parliament is not only important for the activities of the House, but also for the activities of the other Advisory Committees, and the activities of these committees have a broad impact on the development of the country. The President pointed out the importance of evaluating the value of Parliament by MPs, and said that the number of days they attend Parliament is the major factor in maintaining the efficient functioning of Parliament.

The President, pointing out the importance of increasing women's representation in Parliament, noted that according to reports women in the present day achieved high status through efficiency, and that he believed that women's representation in Parliament should be raised to at least 60% to increase the competence of Parliament.

Expressing his views regarding the efficiency of public services, the President said that according to reports, the efficiency of the public sector, which represents 1.5 million human resources, is only 30-35%, which is not a satisfactory situation at all.