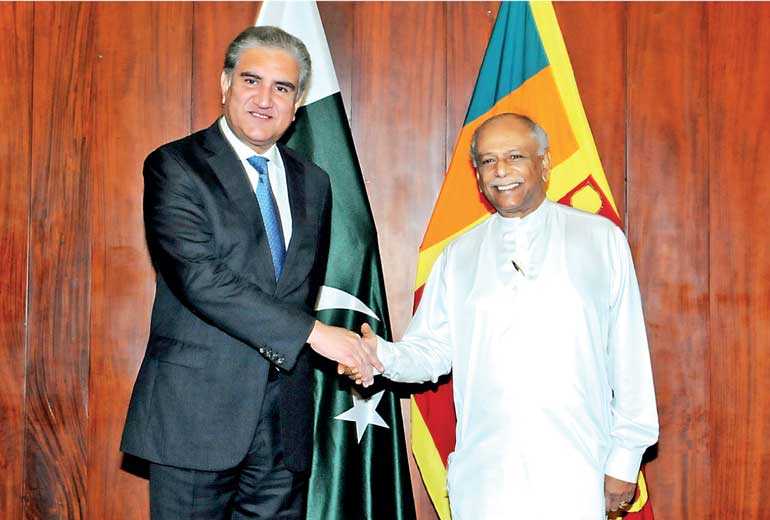 Meets Sri Lankan counterpart, invites him to visit Pakistan
Sees potential to further expand trade and investment between neighbours
Commends Sri Lanka's efforts to strengthen defence ties, promises better intelligence sharing
Says Sri Lanka has underutilised $ 200 m line of credit from Pakistan
Calls for better linkages between Sri Lankan and Pakistani industry, private sector
Pakistani Foreign Minister Makhdoom Shah Mahmood Qureshi yesterday met his Sri Lankan counterpart Foreign Minister Dinesh Gunawardena and called for the strengthening of the Pakistan-Sri Lanka Free Trade Agreement (PSLFTA).

Qureshi, who is on a two-day visit, met the President and Prime Minister on Monday. According to a press release by the Ministry of Foreign Affairs (MFA), he discussed growing bilateral relations during his meeting with Minister Gunawardena, with the aim of diversifying and developing main sectors. He had stated that Pakistan looks forward with much enthusiasm in working with Sri Lanka, and invited the Minister to visit the country in the near future.

The visiting Pakistani delegation, headed by Qureshi, was met by Foreign Minister Gunawardena, Foreign Ministry Secretary Ravinatha Aryasinha, and senior officials at the Ministry. He commended the Sri Lankan Government's efforts in strengthening defence cooperation and looked forward to further intelligence sharing to help each other as committed neighbours.

The visiting Foreign Minister, while calling on both countries to strengthen the existing FTA, pointed out that Sri Lanka has not fully utilised its credit line of $ 200 million with Pakistan. Qureshi invited Sri Lanka to use the opportunity especially in the animal husbandry area, a move which would be beneficial for Sri Lanka, he opined. He also requested the Sri Lankan business sector to visit Pakistan and form linkages with suitable counterparts in Pakistan, and requested Minister Gunawardena to initiate a program to that effect.

Minister Gunawardena informed his counterpart that Sri Lanka is committed to continuing its partnership with Pakistan in all possible areas of cooperation, and looked forward to engaging in the fields of tourism and higher education, in addition to the growing bilateral economic partnership.Minister Qureshi also invited a delegation of Buddhist clergy from Sri Lanka to visit Pakistan and witness the beautiful Buddhist religious sites, and travel the country in an effort to invigorate the growing cultural relations.