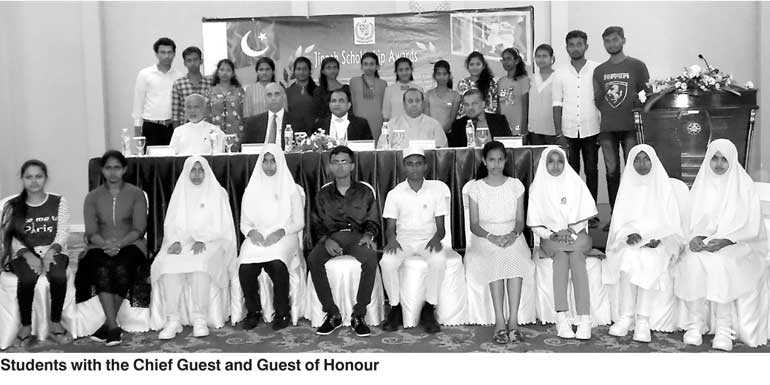 In order to enhance the younger generation's capacity-building for better educational opportunities, the Government of Pakistan, through its High Commission, awarded scholarships to 308 Sri Lankan students under the prestigious Jinnah Scholarships Scheme at a local hotel in Kandy on 19 June.

University of Peradeniya Vice Chancellor Prof. Upul B. Dissanayake was the Chief Guest on the occasion, while Mayor of Kandy Kesara Senanayake was the Guest of Honour.

While applauding the successful students, the Acting High Commissioner of Pakistan Janbaz Khan reiterated Pakistan's commitment to contribute in enhancing the younger generation's prospects for better educational opportunities. The Acting High Commissioner expressed hope that both countries would continue to tread the path that leads to greater cooperation and greater understanding in the years to follow.

Prof. Upul B. Dissanayake, in his remarks, said that Pakistan is a close friend of Sri Lanka, and has helped the country in times of need throughout history. He said that this scholarship program has benefited students from all communities for the past 12 years to create better professionals for the future benefit of this country.

Mayor of Kandy Kesara Senanayake, in his address, praised the leadership of Muhammad Ali Jinnah, who devoted his life to the relentless struggle to realise his dream of an independent Pakistan. He further added that Jinnah's legacy of wisdom was worthy of the Quaid-i-Azam, who lived a life honouring justice and fair play.

Kesara Senanayake thanked the people and Government of Pakistan for the scholarship scheme. He also thanked the High Commission of Pakistan for arranging the ceremony in Kandy.

The Government of Pakistan has been awarding these scholarships under the Jinnah Scholarship Scheme since 2006 and since then, 1800 students have been awarded.