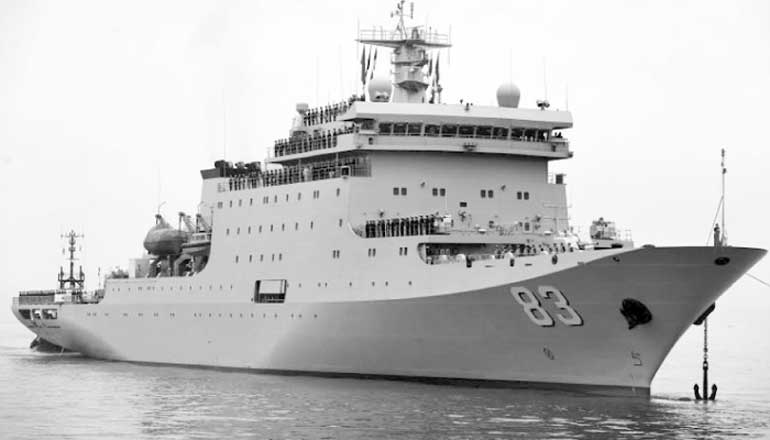 The training ship Qi Jiguang (Hull 83) of the Chinese People's Liberation Army (PLA) Navy docked in Colombo Port on the morning of 10 November for a four-day goodwill visit.

During the ship's port call in Colombo, Rear Admiral Yan Zhengming, superintendent of the PLA Navy's Dalian Naval Academy and commanding officer of the training ship's ocean-going mission, is scheduled to call on vice admiral S.S. Ranasinghe, Commander of Sri Lanka Navy, and Rear admiral NPS Attygalle, Commander Western Naval Area.

The Chinese officers and sailors on the training ship will visit ship of the Sri Lanka Navy, exchange ideas with Sri Lanka Navy training officers, instructors, and cadets from Naval and Maritime Academy, take part in a friendly basket ball and soccer match with their Sri Lanka counterparts. In addition, the Chinese side will hold a deck reception on the training ship Qi Jiguang, which will also be open to local visitors in Sri Lanka.

Designed and built in China, Qi Jiguang Ship was commissioned in PLA Navy in February 2017, subordinate to Dalian Naval Academy. The ship is named after the hero Qi Jiguang of Ming Dynasty. Her mission is to inherit glorious traditions, cultivate excellent servicemen and carry out military diplomacy. Her length 165.3 metres, her beam 22.2 metres, her standard displacement more than 9000 tons, hull number 83 maximum speed 22 knots, she can withstand the wind force of hurricane.

According to the plan, in combination with ocean-going practice, Qi Jiguang Ship has visited Oman, Portugal and Italy. She will depart for Thailand on 14 November.