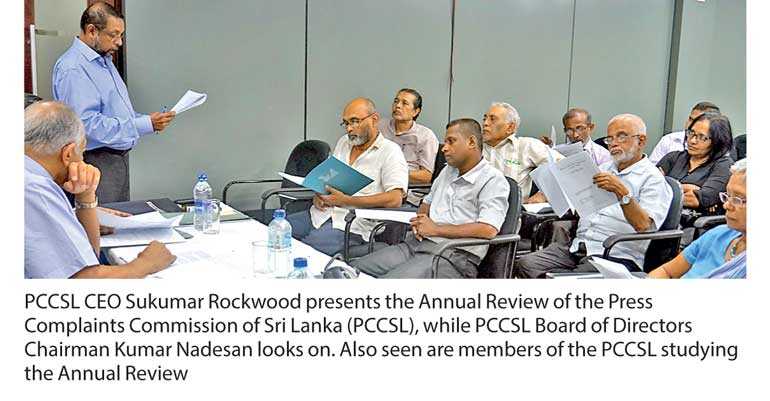 The Press Complaints Commission of Sri Lanka (PCCSL) received 116 complaints in 2017, of which 76 complaints were valid complaints falling within the purview of the PCCSL mechanism under the Editors' Code of Professional Practice. Of the 76 valid complaints, 29 were resolved with the assistance of the PCCSL where the complainant was granted a 'Right of Reply'.

PCCSL CEO Sukumar Rockwood made these observations while releasing the Annual Report 2017 following the Annual General Meeting held on Wednesday, 12 September, at its office, 96 Bernard Soysa Mawatha (Kirula Road) Colombo 05. He added, the PCCSL also noted the Editors complying with the PCCSL process by directly resolved 262 complaints sent to them by providing a 'Right of Reply' to the aggrieved parties.

The PCCSL, which is an independent, voluntary, self-regulatory body, inaugurated on 15 October, 2003, is supported by the Newspaper Society of Sri Lanka (NSSL), The Editors' Guild of Sri Lanka (TEGOSL), the Free Media Movement (FMM) and the Sri Lanka Working Journalists Association (SLWJA) and is affiliated with the Federation of Media Employees Trade Union, the Sri Lanka Muslim Media Forum, the Sri Lanka Tamil Media Alliance and the South Asian Free Media Association – Sri Lanka Chapter.

The PCCSL works on the principles of conciliation, mediation and arbitration heard by the Dispute Resolution Council (DRC). The DRC is made up of six non-journalists, one of whom is an Attorney-at-Law, and five journalists totalling 11 members. It is headed by Nihal Seneviratne, Chairman and the balance non-journalist members are: Dr. Devanesan Nesiah, Jawid Yusuf, Dion Schoorman, Lucille Wijewardene and Gnana Moonesinghe. The five journalist members on the DRC are: Siri Ranasinghe, P. Balasingham, Daya Lankapura, Pramod de Silva and Malini Govinnage.

The nine members of the Board of Directors are: Kumar Nadesan, Chairman, Sinha Ratnatunga, Deputy Chairman, Manik de Silva, Nimal Welgama, Siri Ranasinghe, N.M. Ameen, Mohanlal Piyadasa, Ananda Jayasekera and Duminda Sampath.

The PCCSL Secretariat includes Kamal Liyanaarachchi, Complaint's Officer – Sinhala Print. The Annual Report 2017 was printed on gratis basis by Nimal Welgama, Managing Director of Upali Newspapers Ltd.