Jayasekara tells P'ment disparities as wide as Rs. 700,000 and Rs. 3,127 per perch given to land in one area
From 2015-2019, a total of 40,940 people have lost land to highways
Kiriella defends valuations, says public can appeal if land undervalued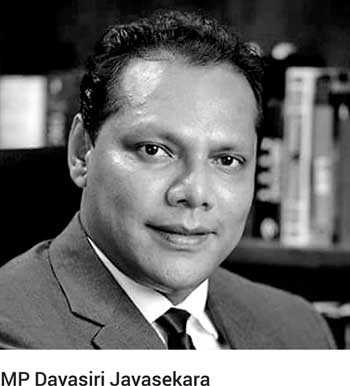 By Ashwin Hemmathagama – Our Lobby Correspondent

The Opposition yesterday took the Government to task for what it termed as wide disparities in the valuations of land acquired to construct the Central Expressway and called for a fairer system to be instituted.

United People's Freedom Alliance (UPFA) lawmaker Dayasiri Jayasekara told Parliament a perch was being offered at Rs. 700,000 per perch but the adjoining land at just Rs. 3,127 per perch in Kurunegala.

From 2015 to 2019, a total of 40,940 people have lost lands in different parts of the country. According to the Government, 6,469 people in Gampaha, 4,158 people in Kurunegala, 2,156 people in Kegalle, 1,567 people in Kandy, 4,653 people in Colombo, 1,784 in Kalutara, 8,564 in Hambantota, 353 in Matale, 421 in Nuwara Eliya, 6,486 people in Matara, 34 in Jaffna, 613 people in Puttalam, 115 in Polonnaruwa, 2,778 in Badulla, 110 in Ratnapura, 44 in Galle, 584 in Monaragala, and 51 people in Ampara have faced land acquisition.

Highlighting the disparity in valuations and compensation, MP Jayasekara said: "The compensations were paid using foreign borrowings, which we have to pay back. Ultimately, people had vacated their lands and become internally displaced due to highway construction. However, some of the landowners were not paid reasonable compensation. One land near the Kurunegala entry and the exit of the highway received Rs. 700,000 per perch while the other adjoining land received Rs. 25,000 per perch. The land adjoining these two was valued at just Rs. 3, 127 per perch. There is a big disparity in the valuation. The Government Valuation Department should do a better job."

The land acquisition that involves different State organisations have already paid Rs. 60,863 million for 31,285 people and are looking forward to settling the payments of 13,627 people in the days to come.

Leader of the House of Parliament Lakshman Kiriella, in response, held: "Those who are not satisfied with the compensation can use the Right of Appeal. When we were constructing the Central Highway, compensation was paid over three times the market value. We know that Speaker Karu Jayasuriya's five-acre land was also acquired for the project under the same compensation. A total of 25,000 blocks of land were acquired for the central highway."

Speaker Karu Jayasuriya held that he no longer owns the five-acre land used for the central highway but it was transferred to his family.