Says Opposition should have helped adjust VOA to support public services
Charges JVP attempting to gain political mileage after blindly supporting UNP-led Govt.
Defends PB's request, insists no coercion to donate salary portion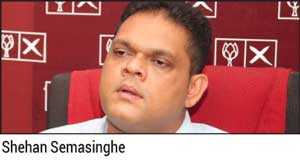 The Sri Lanka Podujana Peramuna (SLPP) yesterday said if Opposition political parties were genuinely concerned about public finance, they should have backed the amendments to the Vote on Account (VoA) which was proposed in February but later withdrawn by the Government.

It was responding to statements by the Janatha Vimukthi Peramuna (JVP), which on Wednesday questioned the legality under which a VoA for March-May was included in the Pre-Election Budgetary Position Report 2020 without parliamentary approval. The JVP also pointed out that authorising the use of money from the Treasury without Parliamentary approval was illegal.

Speaking to media in Colombo, former Parliamentarian and SLPP senior member Shehan Semasinghe charged the JVP's allegations were based on political interests and not safeguarding public finance. All criticisms by the Opposition were attempts to sabotage the Government's efforts to contain COVID-19, he added.

"The JVP did not criticise the United National Party (UNP)-led Government. It was silent and acted as if nothing happened. During the Easter Sunday attacks the JVP did not say a word about it, which leads us to believe it was protecting the UNP-led Government. However, after the Presidential Election, it has started to act like before 2015 and criticises every move by the Government," he charged. According to Semasinghe, if the Opposition had simply backed the Government's amendments to the VoA in February, the situation could have been different and necessary payments would have been made already. He argued amendments were brought in to settle overdue payments and allocate funds to necessary public services. The former parliamentarian also argued that the President was vested with powers by the Constitution to allocate funds to necessary public services and charged the Opposition was attempting to mislead the public with false statements about the situation.

"The President is doing everything according to the Constitution; therefore there is no need to raise concerns about that. Once the new Parliament is convened the President will submit details of all expenses," he added.

Referring to President's Secretary Dr. P.B. Jayasundera's request to public employees to donate a portion of their May salary to reduce the budget deficit, Semasinghe said Dr. Jayasundera's appeal was made in good faith. He pointed out that Dr. Jayasundera made the request only from those willing to contribute from their salary. "It was just a request. Therefore only those who wish to do so need to contribute. No one is forcing anyone to donate their full salary," he added.