Concerns ex- Defence Secretary has not made application under Citizenship Act
Obtained new passport without appearing in person; application submitted after hours
Passport issued under new NIC unconnected to border control records
By a Special Correspondent

Questions have been raised as to how Gotabaya Rajapaksa obtained a passport from the Department of Immigration and Emigration in May omitting an endorsement of his dual-citizen status. Rajapaksa told reporters last week that this passport was proof that he was no longer a dual citizen under Sri Lankan law.

Immigration officials, however, told the Daily FT that persons with dual citizen status are required to make a formal application under the Citizenship Act if they wish to regain regular Sri Lankan citizenship. Rajapaksa had not followed this regular process, they said, but had somehow obtained a passport which did not indicate his dual citizenship status.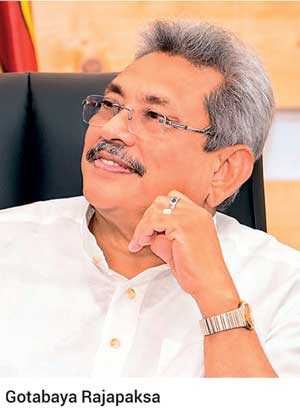 Rajapaksa's passport application, immigration records showed, was received and processed on an urgent basis on 7 May after 3.00 p.m, which is the cut-off time for new applications. Rajapaksa did not appear at the immigration department to be finger-printed, and the passport was issued in a matter of hours under a new National Identity Card (NIC) number not connected to Rajapaksa's previous NIC or border control records.

The use of a new NIC prevented the immigration computer systems from automatically noting that Rajapaksa was indeed on record as a dual citizen. The manoeuvre may have allowed him, in theory, to bypass the legal process followed by ordinary persons to prove that they are no longer dual citizens.

Dual citizenship, the officials said, is a 'status' granted by the Government to former Sri Lankan citizens allowing them to exercise all of the rights of a Sri Lankan citizen. "Unlike regular citizenship, it is a strictly political decision," the officials said. "The Minister has unquestioned authority to approve, deny or revoke dual citizenship as he determines in the national interest."

According to Section 19 of the Citizenship Act, the Minister may only grant dual citizenship "if he is satisfied" that doing so "would, in all the circumstances of the case, be in the best interests of Sri Lanka."

Unlike normal citizens, the Citizenship Act allows the Minister to revoke the status given to dual citizens. Section 19 (7) states that "the Minister may, at any time, revoke" a declaration of dual citizenship status if a dual citizen "has so conducted himself that his continuance as a citizen of Sri Lanka will not be of benefit to Sri Lanka."

Should a dual citizen wish to become an ordinary Sri Lankan citizen whose status is not subject to revocation, they must apply under the Citizenship Act for a declaration that they are again full Sri Lankan citizens. This again is a decision that is delegated to the Minister for citizenship matters.

According to an affidavit filed by Gotabaya Rajapaksa in the Supreme Court, he returned to Sri Lanka in 2005 in order to assist with his brother's presidential election campaign. He was an American citizen and not a Sri Lankan citizen at the time. Immigration records indicate that he arrived in Sri Lanka on his American passport with an on-arrival tourist visa in order to campaign for Mahinda Rajapaksa, applying for dual citizenship on Friday, 18 November 2005, the day his brother was sworn in as President of Sri Lanka.

Election records show that Gotabaya Rajapaksa was also a registered elector in Sri Lanka for the electoral list used in the 2005 presidential election, despite not being a citizen or entitled to vote at that election.

An electoral list for Medamulana in Weeraketiya lists 'Rajapaksa Nandimithra Gotabaya' as elector number 130 at house number 114. Also registered to vote from that address were candidate 'Rajapaksa Percy Mahendra', his wife 'Rajapaksa Shiranthi', Gotabaya Rajapaksa's American citizen wife 'Rajapaksa Ioma' and Chamal Rajapaksa.

Alarmingly, investigators were unable to locate any files pertaining to Rajapaksa's dual citizenship at the Immigration Department. The only records available indicate that he had applied for dual citizenship on 18 November 2005, the day his brother Mahinda Rajapaksa was elected President.

Records show that his application was approved by the Minister on the next working day, Monday, 21 November, despite there having been no Minister yet appointed at that time. Despite a large backlog of applications over several months, Rajapaksa's was brought to the front of the line.

According to the computer system, while the dual citizenship was granted in November 2005, the data pertaining to Rajapaksa was only entered into the system on 13 January 2014. In such a situation, officials would typically refer to the original paper records or digital scans of them to ascertain the factual position.

However, officials have found that there are no copies of the application, receipt of payment, or the dual citizenship certificate granted to the former Defence Secretary on file at the department. While dual citizens are usually required to present their dual citizenship certificate when obtaining a new passport, immigration records show no sign that Rajapaksa had ever presented a dual citizenship certificate when obtaining a passport.

The standard procedure followed by immigration investigators in situations of this nature, where irregularity is suspected in the issue of a passport, and critical records of dual citizenship appear to be altered or missing, is to send a formal complaint to the Criminal Investigation Department (CID) for further investigation.

However, in this instance, it is learnt that immigration officials have not forwarded information to the CID.