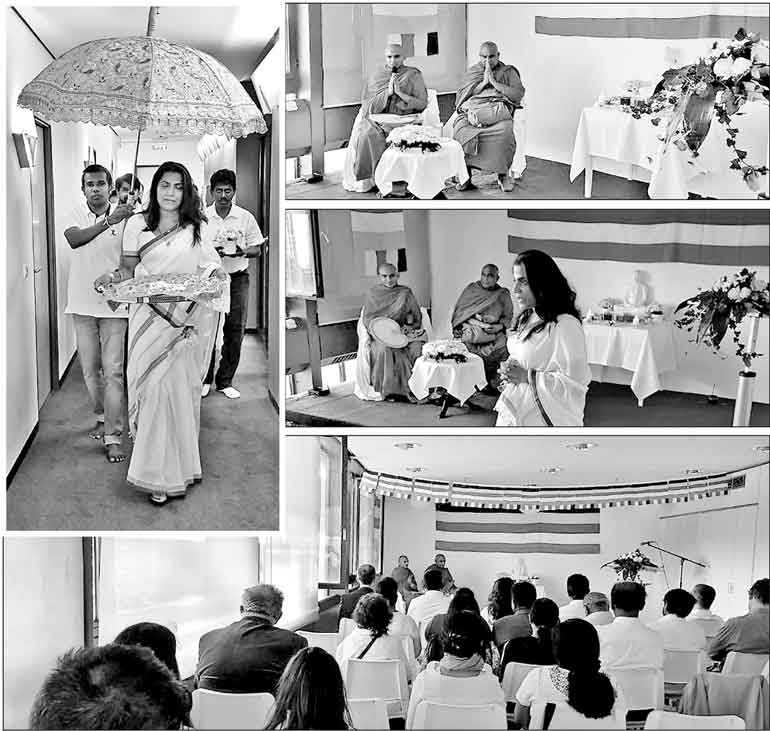 The Day of Poson was celebrated at the Consulate General of Sri Lanka in Frankfurt am Main on 16 June. Venerable Dr. Wijayarajapura Seelawansa Maha Thero who visited from Austria led the observance of Poson at the premises of the Sri Lanka Consulate General. This is the first occasion on which a Poson program was organised at the Consulate General where communities of all religious denominations participated in.

Sri Lanka's Consul General to Frankfurt am Main, Madurika Joseph Weninger during her remarks, spoke of the importance of the Poson Day, including Buddhism's contribution to humanity and acknowledged the services rendered by the Sri Lankan Buddhist monks overseas to enrich and spread the teachings of the Lord Buddha.

In his Dhamma Desana, Venerable Dr. Wijayarajapura Seelawansa Thero explained in German, the advent of Buddhism in Sri Lanka and how the Dhamma preached by Arahat Mahinda led our society and culture to a new path, showing us the way to live in co-existence as citizens of one country regardless of ethnic or religious differences. He referred to the importance of religion to achieve peace, harmony, protect the environment and improve the life of our people and society.

This was followed by 'Sanghika Dana' and chanting of 'Seth Pirith' conducted by Venerable Tholangamuwe Sumana Amitha Thero, Head of the Sri Lanka Buddhist Temple in Frankfurt am Main.

The Consulate General and the community jointly offered pirikara and other contributions.

The visit of Ven. Dr. Wijayarajapura Seelawansa Thero to Germany was at the invitation of the Consulate General and the Sri Lankan community in Germany.

Venerable Seelawansa Thero, the Chief Incumbent of the Sri Lanka Buddhist Temple in Vienna, Austria is renowned for his Dhamma Desanas and is a highly respected member of the clergy in Austria.