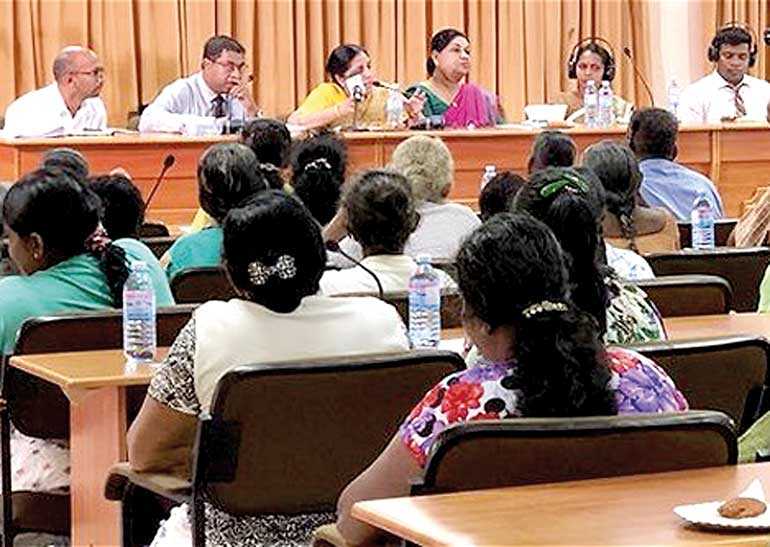 The Office of Missing Persons (OMP) in Sri Lanka will set up 12 regional offices covering the entire country to receive information and complaints from families and other individuals of the missing persons, the OMP Chairman President's Counsel Saliya Peiris told the media after the OMP held its second meeting in Matara.

The newly-created OMP, which began public consultations on 12 May in Mannar, held its second public meeting at the Matara District Secretariat on Saturday (19).

Relatives of the missing persons in Matara, Hambantota and Galle districts were present at yesterday's meeting.

Family members of missing persons in the South during the second uprising of the Janatha Vimukthi Peramuna (JVP) in the late 1980s attended the public meeting at the Matara District. Information on the people who went missing during 1988/89 were given to the officials at the session.

OMP Chairman said there was no proper list of those who have disappeared since the 1970s and therefore the OMP will compile an informative database to assist them during their inquiries.

He said the OMP is not limited to the missing in the North and it will also inquire into missing persons in the South, including 5,100 missing soldiers and police officers during the war.

Commissioners of the Missing Persons office Dr. Nimalka Fernando, Attorney at Law, S.K. Liyanage, Kanapathipillai Venthan, Jayadeepa Punyamoorthi, retired Major General Mohanthi Peiris, Miraque Raheem and representatives of civil society organisations were present at the meeting.