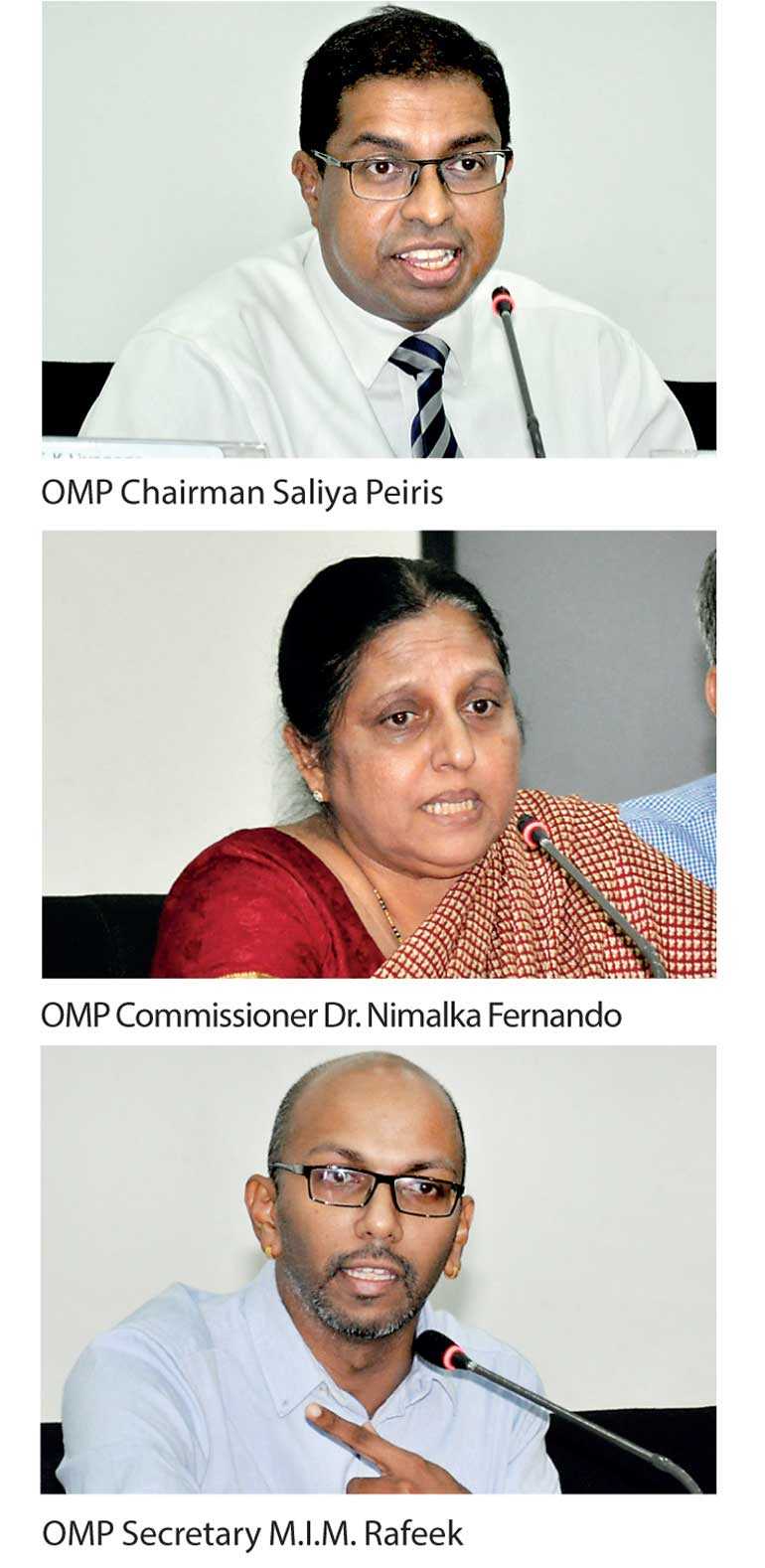 OMP to mark International Day of the Disappeared
Report to be presented to President and PM with short-term recommendations on justice
By Uditha Jayasinghe

The Office of Missing Persons (OMP) will present an interim report later this month, detailing recommendations on the welfare of families of the disappeared and possible measures for justice, an official said yesterday.

The report is to be handed over to President Maithripala Sirisena and Prime Minister Ranil Wickremesinghe and subsequently released to the public, OMP Chairman Saliya Peiris said.

The handing out of the report will take place at a ceremony to mark the International Day of the Disappeared on 30 August.

The families of the disappeared will address the event, which will be held at the J. R. Jayawardena Centre, and share their stories with the public. The intention of the ceremony is to increase awareness of the issue of disappeared people, create greater understanding of the circumstances faced by their families, and improve support for them from the masses.

The OMP has also been tasked with compiling a list of the disappeared with findings of previous commissions also being taken into consideration by the OMP.

"Civil society has also come forward with their lists and some of them have offered to cooperate with us. Of course some of these lists will overlap, so we will take all those into account when we prepare the final list of the disappeared. In terms of numbers, the ICRC statistics of the disappeared as at 2016 was 16,000, which also includes 5,100 missing in action from the armed forces, with the Paranagama Commission's being over 20,000, and the Ministry of Reconciliation called for documents from Grama Niladaris and Divisional Secretariats, and those files, which are now in the custody of the OMP, number over 13,000," he said.

The statistics compiled by the Reconciliation Ministry is countrywide, but the ICRC details are from the north and east, and the Paranagama Commission details are also from the north and east. There have also been previous commissions appointed by former governments, which will also be considered by OMP.

"Total numbers, at the very least, would be over 21,000, but probably higher than that when you add the disappearances in the south during the '87/'89 period and the '71 figures. But, these figures are not conclusive and it would be very difficult to zero in on one figure at this point," Peiris said.

Families that had never reported their cases before previous commissions had also come before the OMP, officials said, drawing examples from other countries such as Peru where numbers had grown during the compilation process as more families came forward with details of missing people. The OMP is also focusing on issuing Certificates of Absence to families so they can avail themselves of services, but some refuse to accept the certificate, fearing that it would automatically be converted to a Death Certificate, they added.

"Issuing Certificates of Absence would be one task that the OMP's regional offices will be doing once they are established. It is not just Certificates of Absence they are expecting. They also want to find out what happened. There is some degree of reluctance in the north but in other instances, especially in the south, families have already obtained death certificates. But all these people still want to know what happened to their loved ones," Peiris added.

The OMP would also monitor excavations of the Mannar grave and would consider relooking at the Matale mass grave as well, officials said.

"The OMP has a mandate to oversee excavations of mass graves and have now nominated a lawyer to monitor the Mannar grave. There was danger of the whole excavation process stalling because of lack of funds, and at that point we were approached. So, the OMP decided to advance funds to ensure that the process goes uninterrupted. We will support the process of investigations and identification."

Pix by Lasantha Kumara
Lack of evidence halts investigation

into murder of JVP cadres
Minister of Law and Order says can initiate fresh investigations if JVP provides evidence
​By Skandha Gunasekara

Minister of Law and Order Ranjith Madduma Bandara in Parliament yesterday said he would initiate new investigations into the murder of two JVP cadres during the tenure of the previous Government, if the JVP could furnish his Ministry with adequate evidence.

The Minister made these remarks in response to a question posed by Chief Opposition Whip and JVP leader Anura Kumara Dissanayaka.

The Chief Opposition Whip demanded why there were delays in the investigations into the killing of two JVP cadres, Nandana Balage and Chandradasa Naiduwawadu, pointing out that three years had passed since the current Government was elected into power but many political killings were yet to be investigated.

"JVP cadre Nandana Balage was shot dead on 5 April 2009 at Veyangoda in Gampaha while he was participating in JVP propaganda activities for the 25 April 2009 provincial council elections. The suspects were supporters of the then Governor of the Western Province. Their arrest was prevented and they escaped the law with the help of the office of the then Governor of the Western Province. Law has not been implemented against the culprits who are still at large."

"On 25 January 2010, another JVP cadre, Chandradasa Naiduwawadu, was attacked while he was taking part in propaganda activities in Ambalangoda during the presidential polls in January 2010. He succumbed to his injuries while in hospital on 2 February 2010. Two others were also injured in the attack. Though it had been a serious assault and the injuries to the victims were severe, the Ambalangoda police failed to take action against the attackers who were supporters of an MP in the area. In addition, there had been a complaint lodged by Chandradasa Naiduwawadu on 14 January 2010 at the Ambalangoda police under number EIB 52/37 on the death threats he had received. That complaint, too, had not been investigated. There was a case heard at Balapitiya Court on the death and eye witnesses gave their evidence, but thereafter, the case was halted."

"These two deaths were among many deaths that took place during the time of the previous Government and among the many unsolved crimes of that dark age. These crimes have been covered up through political intervention. It is the duty of this Government to investigate them."

Law and Order Minister Ranjith Madduma Bandara responded that the Attorney General's Department had informed him that there was a lack of evidence to proceed with legal action.

JVP leader Dissanayake said that there was evidence and accounts of eye witnesses which had been undermined by the then law enforcement authorities due to political pressure.

The Minister said that he could initiate fresh investigations if the JVP could provide his Ministry with additional evidence.