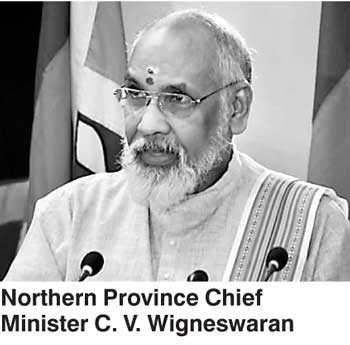 The Court of Appeal yesterday ordered the Northern Province Chief Minister C. V. Wigneswaran and two others, who have been accused of contempt of the judiciary, to appear in the Court again on 18 September.

Along with the Chief Minister, Provincial Ministers Anandi Sashitharan and K. Sivanesan have also been ordered to appear in Court.

A two-Judge bench ordered the defendants after considering a petition filed by the former Provincial Minister B. Deniswaran accusing the three Provincial officials of Contempt of Court.

Deniswaran states that the Appeals Court had recently issued an Interim Order against the Gazette notification to remove him from his ministerial portfolio.

In his petition, Deniswaran noted that the Appeals Court has issued a stay Order on the gazette notification of his removal from the Provincial minister post by the respondents and ordered his reinstatement to the post.

However, the petitioner complained that the Northern Province Chief Minister, a former Supreme Court Judge, failed to carry out the Court Order in Contempt of Court.

Considering the petition, the Court of Appeal last month issued notice to the three officials to present submissions today regarding the Contempt of Court charges against them for failing to carry out a Court Order.

Accordingly, the Chief Minister and the two provincial ministers appeared before the Court yesterday.

The lawyer appearing on behalf of the Chief Minister informed the Court that he was unable to continue the case and requested to postpone the case as more time is needed to present objections.

Accordingly, the Appeal Court Judge Janak de Silva postponed the case to 18 September, and ordered Wigneswaran and the other Ministers to be present on that day.

The Court stated that further facts will be considered in this regard at the next hearing.

The Appeals Court also extended the Stay Order issued halting the Chief Minister's decision to remove Deniswaran, who served as the Northern Province Fisheries, Transport, Trade and Rural Development Minister until last year, from his ministerial portfolio until 9 October.