---
Charges Opposition making false claims to score political points ahead of General Election
The Government yesterday reiterated its stance that no agreement detrimental to Sri Lanka would be signed during its tenure, but stopped short of outright rejection of the $480 million grant from the Millennium Challenge Corporation (MCC).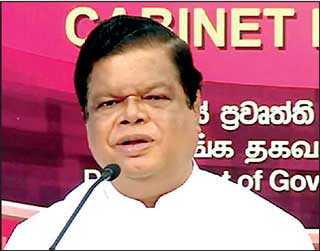 Cabinet spokesman

Bandula Gunawardana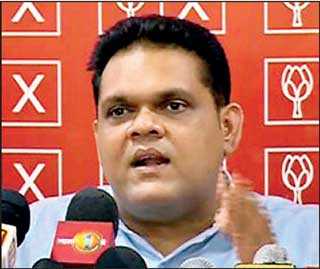 MP Shehan Semasinghe


Both Cabinet spokesman Bandula Gunawardana and Sri Lanka Podujana Peramuna (SLPP) member Shehan Semasinghe, speaking to reporters at two different press conferences, dismissed what they termed as rumours of the Government preparing to sign the controversial MCC agreement after the parliamentary election.

"There is a misinformation campaign these days attempting to convince people that the Government will sign the MCC agreement. But this has not been the Government's stance at all. In fact it was the strong opposition mounted by us that ensured the agreement was not signed just head of the presidential election last year. After coming into power we appointed a committee to evaluate the agreement and it clearly states this would undermine the sovereignty and Constitution of Sri Lanka," Gunawardana said at the weekly Cabinet briefing.

However, while Gunawardana insisted that the Government would not sign the existing agreement, he also did not clearly state that it would not be renegotiated and signed at a later date.

"This Government will never sign an agreement that is disadvantageous to Sri Lanka, whether it is from the US, China, India or any other country. This has always been our stance and it will not change in the future," he added.

Meanwhile speaking to media at the SLPP head office, former MP Shehan Semasinghe also echoed Gunawardana and said they would not sign any international agreement that would undermine Sri Lanka's sovereignty or national security.

"We will not sign any agreement that will undermine our sovereignty. The Opposition is attempting to make false claims about the MCC agreement. I can assure that we will not sign it and that was promised at the Presidential Election," he said.

Semasinghe charged the Opposition was making false claims that the Government would sign the MCC agreement after the forthcoming General Election. According to Semasinghe, that was an attempt to tarnish the Government reputation to gain political mileage ahead of the election. The former Parliamentarian noted President Gotabaya Rajapaksa in his policy statement said he would not sign any harmful international agreement. He noted the Government would follow non-aligned foreign policy and continue to work closely with the international community. President Gotabaya Rajapaksa in his policy statement 'Vistas of Prosperity and Splendour' stated that he would re-examine all bilateral trade agreements signed in the past five years. "If these agreements contain any harmful or economically damaging provisions, they will be removed after discussions with the relevant country or countries. In the future, we will not enter into any agreements harmful to the economic well-being of local industrialists and entrepreneurs," stated the policy statement.