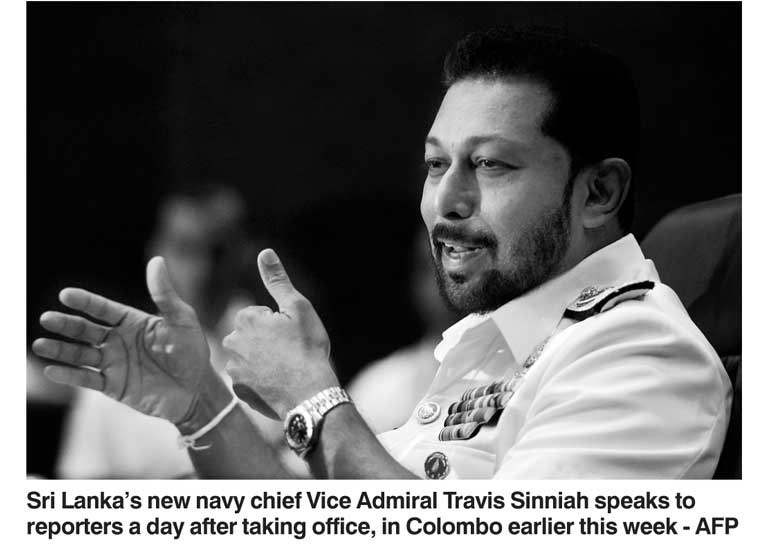 Sri Lanka Navy's new commander Vice Admiral Travis Sinniah, who assumed duties on Tuesday, says the Navy uniform is not a license to kill, steal or commit any other crime and no one will be pardoned if someone within the Navy is found guilty of any crime even if the person is a war hero.

Addressing media on Wednesday at the Navy Headquarters in Colombo for the first time after assuming duties, the decorated commander said he strongly believes that a war hero cannot be a murderer but no naval personnel will be allowed to go free if found guilty.

He stressed that even a navy personnel if responsible for such an offence should be punished according to the existing laws.

The new Navy Commander said an island nation like Sri Lanka needs a strong navy for its protection and he has the capability to lead such a Navy, utilising the knowledge and experience he has gained since his joining the Navy in 1982, and the strength he has derived from surmounting the challenges he has faced in his naval career.

The Commander stressed that he will be committed to well-being of the Sri Lanka Navy and his intention is to enable the Navy to contribute to the country's development and its economic prosperity, utilising the island-nation's oceanic resources to the fullest.

He also stated that he would make the Navy fully capable of protecting the country's maritime interests for the benefit of all its inhabitants.

The Navy Commander emphasised that he would maintain at all times the utmost transparency in the matters pertaining to naval administration and the utilisation of the funds allocated to the Navy by the Government.

The Commander also said he intends to make the Sri Lanka Navy professionally competent and fully committed to preserve the territorial integrity and sovereignty of the country. He also went to add that the Navy under his command would continue to assist the country's development in accordance with the national defence strategy as well as the policies of the Navy.

He said the Navy will support Sri Lankan fishermen to carry out their fishing activities in the Sri Lankan territorial waters peacefully without having disputes with Indian fishermen.