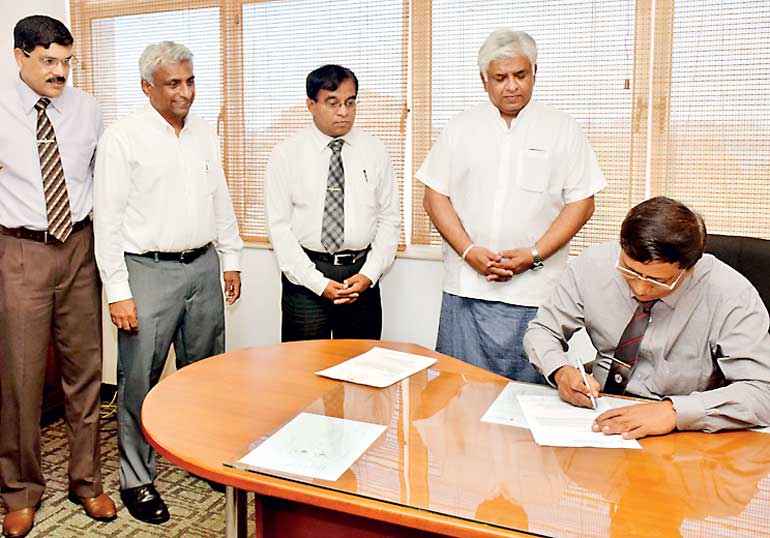 Neil Jayasekara, who was the Manager (Refinery), assumed duties as the new Managing Director (acting) of the Ceylon Petroleum Corporation (CPC) yesterday in the presence of Petroleum Resources Development Minister Arjuna Ranatunga.

Secretary of the Ministry of Petroleum Resources Development Upali Marasingha and the Chairman of the CPC Dammika Ranatunga were also present at the occasion.

Jayasekara held his Manager (Refinery) position for seven years. He graduated as a mechanical engineer from the University of Peradeniya. He was appointed as an engineer (A division) of the CPC on 3 August, 1981, and later appointed as the Manager (Refinery) in 2010.

He holds a Master's degree in Business Management and he has around 36 years' experience in this field. Minister Ranatunga stated that the Government always allowed workers to rise to higher positions for the betterment of the CPC.

"There should be a procedure in every institution which allows their workers to rise to higher positions. Earlier this procedure has not operated in the CPC and we changed it. One of the visions of the Yahapalanaya Government is to make governmental institutions profitable. We could be able to make Rs. 11 billion as profits during my ports and shipping ministerial period because we allowed talented workers to rise to higher positions in the Ports Authority. We introduced this system to the CPC also. We don't require popular workers. We require talented workers who are not only concerned about position but about the betterment of the institution," Ranatunga added.

Secretary Marasingha stated that the future responsibility of the CPC was to satisfy customers and it would be able to do this through the new Managing Director. Several dignitaries, including Additional Secretary Siripala Hettiarachchi, graced this occasion.