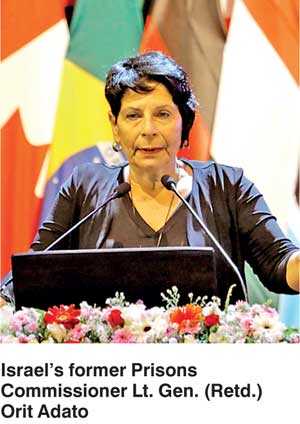 By Shanika Sriyananda

Governments need to gain the support of moderate religious leaders to increase their influence on the community to prevent the spread of extremism while having professionals on the ground to maintain good relations with law enforcement agencies and local community leaders, a top security expert said.

"The vast majority of the population and religious leaders have moderate views. We don't hear them; we only hear the extremists because the voices of the extremists are loud," said Israel's former Prisons Commissioner Lt. Gen. (Retd.) Orit Adato.

She said those moderate voices were unheard as they were being threatened so they needed to be given support, including security, to express their views.

"Their moderate views will influence society while some radicals are trying to explode the bombs on their shoulders," Lt. Gen. Adato asserted.

Presenting a comprehensive interpretation on political extremism at the two-day Colombo Defence Seminar 2018, which concluded on Friday (31 August), she spelled out two options to curb extremism - one was to ignore it and the second was to enlighten society about it.

"When enlightening the people we need to support the moderates while either giving treatment to radicals or taking them into custody," she stressed.

Lt. Gen. Adato said that the deep gaps at socioeconomic levels between parts of society, a revolutionary approach within countries, civil riots and demonstrations such as the Arab Spring in the Middle East and North Africa in the past had largely contributed to the polarisation.

She said that extreme ideology gave birth to fascism, anarchism, communism, racism or even liberalism against conservatism.

"This is the case among different tribes in Africa, Rwanda, South Sudan, the Afro-American population in the US, Mexicans in the US, etc. It encourages extremists to take weapons into their hands. This polarisation might turn into violence and terrorism through escalated phases, like pragmatism, dogmatism, extremism and terrorism," she explained.

Lt. Gen. Adato is of the view that the high level of disagreements, distrust between parties, hate expressions, a reluctant will to maintain discussions (even through the third party or mediator), the blame game, occasional violent confrontations and escalation will push people towards extremism.

"Direct intentional violence, efforts to achieve goals by force, rage, hate, loss of ethical codes and force are considered the only tools that makes them take up arms by way of terrorism," she emphasised.

Explaining the trigger points that may force extremists to resort to violence or criminal acts, she said that government brutality and the killing of demonstrators in a civilian demonstration would make them feel further frustrated.

"It is necessary to identify the direct and indirect incitement utilising vulnerable population to take necessary action before escalation creeps in," she noted.