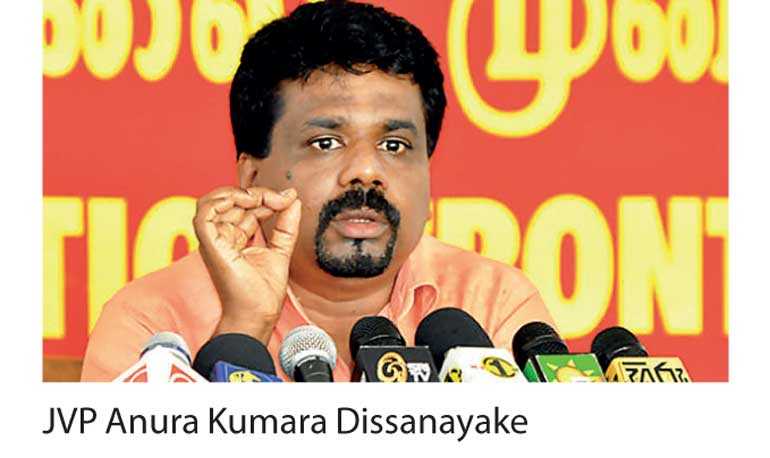 UNP Government with 23 SLFP-ers cannot be considered a National Government
President undermined Parliamentary process by proroguing Parliament
By Skandha Gunasekara

The JVP in Parliament yesterday charged that the National Government was a farce and that there was presently no National Government in Sri Lanka.

Chief Opposition Whip and leader of the JVP Anura Kumara Dissanayake, taking part in yesterday's debate on the Government Policy Statement delivered by President Maithripala Sirisena on Tuesday (8 May), said the UNP cannot form a National Government with just 23 SLFP MPs when there was a total of 95 SLFP MPs in Parliament.

He said that three years had passed since the defeat of the Rajapaksa administration, but it was wasted as the Government failed at both taking the country forward and advancing democracy.

"The Maithri-Wickremesinghe regime is the one which has failed miserably and drawn more public displeasure than all other Governments during recent times. It went back on its promises to the people. What we witnessed during the past three years was nothing but a power struggle between the two main camps led by the President and the Prime Minister. At the end of the three years, people have both camps. None of the ministers went to the people to solve their problems. Instead, their ministerial posts were used to solve problems within their parties," the Chief Opposition Whip said.

He then accused President Sirisena of weakening the Parliament process by proroguing parliament.

The President is yet to give reasons for his decision to prorogate parliament. Following the prorogation, 16 SLFP members came to the opposition. Now, there are 23 SLFP members in the Government. The Government cannot identify itself as a National Government any longer. A party cannot get 23 MPs from another party which has 95 Members to form a Government and call itself a National Government. The National Government experiment has failed," MP Dissanayake said.