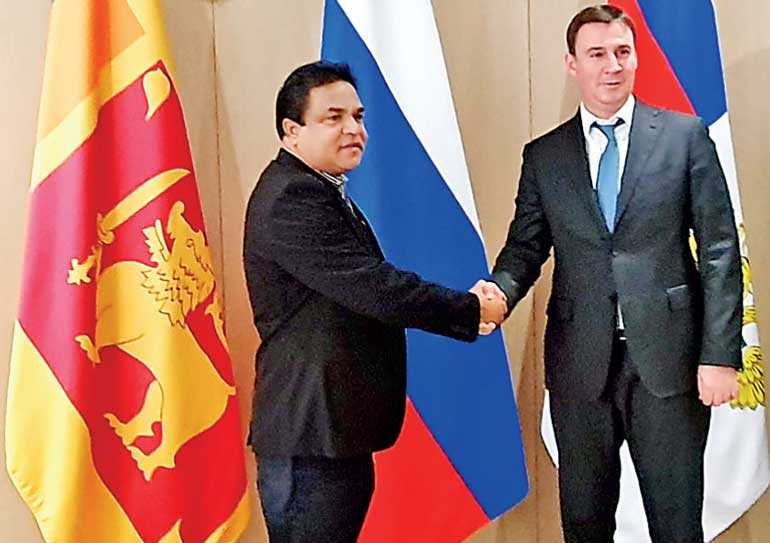 Minister of Agriculture, Rural Economic Affairs, Irrigation and Fisheries and Aquatic Resources Development of Sri Lanka, P. Harrison, paid an official visit to the Russian Federation from 10 to 13 October in order to participate at 'Golden Autumn – 2019', the agricultural exhibition which is one of the most important agricultural forums of the country and which attracts more than 300,000 visitors interested in the sphere of agricultural machineries, plant cultivation, seed production, animal breeding, etc.

During the visit, on 11 October, P. Harrison held a meeting with his counterpart, Minister of Agriculture of the Russian Federation Dmitry Nikolayevich Patrushev, at the Ministry of Agriculture of the Russian Federation. During the discussion, the two Ministers underlined importance of friendly and warm relations existing between the two countries in multiple spheres, including agriculture. Further, they expressed interest in enhancing the trade between both countries, especially in the area of agro-industry.

Patrushev was optimistic that the Minister's visit to Russia would further boost the trade relations between the two countries. Harrison, in his turn, noted that Russia has successfully adopted the new technologies in the agriculture sector and requested his counterpart to extend the support of the Russian Government in order to share the technologies and the best practices with Sri Lanka. The two Ministers showed the intent to develop the relations and emphasised the need to use the existing Intergovernmental Commission on Trade, Economic, Scientific and Technical Cooperation as a platform to move forward in this regard.

On the same day, the Minister had a meeting with representatives of the Ministry of Industry and Trade of the Russian Federation, headed by the Deputy Minister Viktor Leonidovich Evtukhov. The representatives from the Russian side described the new developments in production of ecologically safe fertilisers, as well as in food production machinery industry. Harrison discussed the possibilities of entering into the MOU with the Government of the Russian Federation with regard to importation of fertilisers from Russia and the counterparts decided to proceed with the necessary arrangements in this regard.

The Sri Lankan delegation to both meetings also included the Counsellor of the Embassy M.A. Noor Mohamed, the First Secretary I.P. De Zoysa and the Second Secretary W.C.K. Perera.