Minister Dr. Sarath Amunugama will be the Chief Guest at the 'NSF School Science Day 2018' held at BMICH at 8 a.m. on 8 May.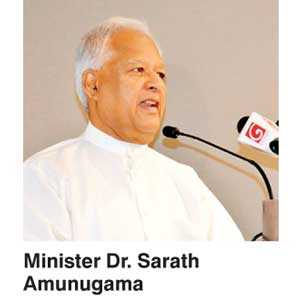 National Science Foundation (NSF) functioning under the Ministry of Science, Technology and Research is organising the NSF School Science Day 2018 under the theme 'Science for Sustainable Living'. This event is organised as one of the events of 'NSF Golden Jubilee' celebrations in 2018.

Deputy Minister Karunathne Paranavithana and State Minister Lakshman Senavirathna will be the Guests of Honour. The keynote speech will be delivered by Prof. Sarath Kotgama, Prof. Emeritus and former Head of the Department of Zoology, University of Colombo.

Around 1,300 school children and teachers from the NSF School Science Societies representing all 25 districts will be participating at the above event.