The Global Conference on Assistance to Victims of Anti-Personnel Mines was held at Amman, Jordan from 10-12 September organised by the Implementation Support Unit (ISU) of the Anti-Personnel Mine Ban Convention (APMBC) and supported by the EU to end the sufferings and number of casualties of Anti-Personnel mines with a view to improve the quality of life of mine-affected victims.
Sri Lanka was considered as a global success story in the mine clearance program as it was one of the few countries that have momentously cleared hazardous area from 1,302 sq. km to 18 sq. km and targeted to declare Sri Lanka as a Mine-Free country by year 2020.

Under the leadership of Prime Minister Ranil Wickremesinghe as the Minister of National Policies, Economic Affairs, Resettlement and Rehabilitation, Northern Province Development and Youth Affairs, the Ministry was able to recently obtain funding from the Government of Norway to clear the landmines through the Operators. The Mine Risk Education (MRE) was also considered as a success story as it significantly reduced deaths and injuries of civilians.

This intervention was specially supported by the UNICEF and other UN Agencies in educating the high-risk target groups such as children, women and men including metal and firewood collectors said Ministry of National Policies, Economic Affairs, Resettlement and Rehabilitation, Northern Province Development and Youth Affairs Secretary V. Sivagnanasothy.

Based on the Cabinet Memorandum submitted by the Prime Minister, this Ministry has initiated action to establish an Inter-Ministerial Committee to formulate an Action Plan on Mine Victim Assistance to improve the quality of life of the victims.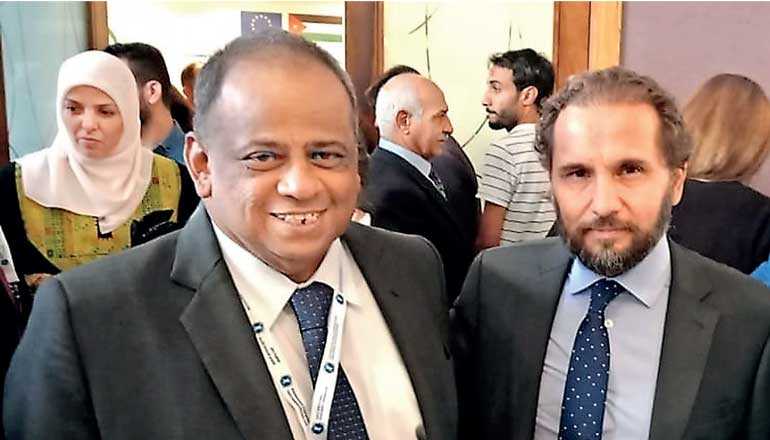 In this context, given the multi-sectorial nature of the mine victim assistance program covering sectors such as social services, health, education, technical and vocational training and employment (labour), the Ministry is in the process of formulating the Action Plan to ensure an integrated and coordinated approach.

V. Sivagnanasothy said the victim assistance program includes six core components which are as follows.

Emergency assistance (first aid and pre-hospital care)

Hospital care which encompass multiple surgeries, amputation, blood transfusion, fracture care and other medical services

Physical rehabilitation which includes provision of artificial limbs (prosthesis and assistive devices such as wheel chairs, crutches and walking sticks, etc.)

Psychosocial support such as counselling to address trauma and to assist the victim and the family to adjust to the new situation

Social and economic reintegration which includes monthly allowance to victims, support to construct houses, self-employment assistance, medical allowance including livelihood support, vocational training and skills development for employment

Legislation and policy support which ensures disability access to buildings, 3% State sector employment, special identity card for priority public service and domestication of the legislation of the Convention on the Rights of Persons with Disability to ensure civic, political, economic and social rights of mine-affected victims The Sri Lankan best practice model on emergency care consist On Call Ambulance Service (1919) and Trained Village Committees in mine affected areas which effectively helps to immediately evacuate victims from mine fields to the hospital/medical facilities.

Further, the Government appeals to the private sector to contribute to Corporate Social Responsibility (CSR) initiatives also is a part of the Action Plan. The Government also noted that the Thailand model includes private sector employment for the persons with disability and in instances where it is not applicable and complied, the accumulated salary will be paid to the State fund maintained for disability assistance.

The Global Conference concluded that mine victim assistance is an integral component and a precondition to accelerate the attainment of the Sustainable Development Goals (SDGs) and thereby realising the Clarion Call of 'Leaving No Behind'. Data on victims, Budgetary support and Donor support with high-level commitment, national ownership and leadership is vital for success.

The Conference also concluded that the victim assistance should not be viewed as merely a part of social welfare, but to be seen from a Rights perspective. The mine victims'/survivors' full potential is not tapped, and this is where Vocational and Technical Education schemes can play an imperative role.

Success of victim assistance depends on 'fostering partnerships' with the Government, private sector, Civil Society Organisations (CSOs), development partners, Academia and South – South regional cooperation and Public Private Partnership (PPP).

The Global Conference was attended by Special Envoy on the APMBC Prince Mired Ra'ad Zeid Al-Hussein, APMBC ISU Director Juan Carlos Ruan, Permanent Representative of Norway to the UN in Geneva Ambassador Hans Brattskar, UN Secretary General's Special Envoy on Disability María Soledad Cisternas Reyes, the Head of the European Union Delegation, National Mine Action Centre (NMAC) National Director V. Sivagnanasothy, Ministry Senior Assistant Secretary and NMAC and UN Mine Action Service (UNMAS) Deputy Director S. Jalatheepan, said Sivagnanasothy.