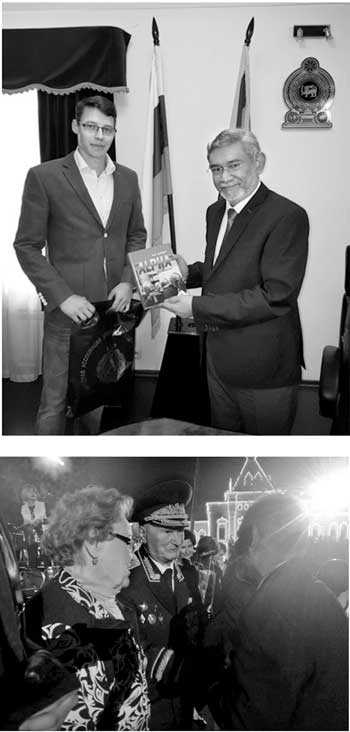 On 10 September, a representative of Spasskaya Tower International Military Music Festival Organising Committee, A.O. Moisenko, on behalf of Major General (Retd) G.N. Zaitsev, legendary Russian Special Forces Commander and hero of the USSR, presented an autographed book titled 'Alpha – My Destiny' to Dr. Dayan Jayatilleka, Ambassador Extraordinary and Plenipotentiary of the Democratic Socialist Republic of Sri Lanka to the Russian Federation.

This solemn presentation took place as a result of a meeting between the Ambassador and Major General (Retd) Zaitsev during the closing ceremony of the Spasskaya Tower Musical Festival which was held on 2 September at the Red Square in Moscow.

Major General (Retd). Zaitsev was the guest of honour at the closing ceremony and the Ambassador was a special invitee for the event.

The book features the glorious history and heroic deeds of the much reputed and highly decorated 'Alpha Group' of the Russian Special Forces Unit, the legendary 'Spetznaz', where Major General (Retd) Zaitsev was twice the Commander of the Unit (from 10 November 1977 to 4 November 1988 and from 4 April 1992 to 31 January 1995). Major General (Retd) Zaitsev as the author of the book was awarded the Alexander Nevsky 'Faithfull Sons of Russia' prize.

During the presentation, the Ambassador expressed his sincere gratitude for the kind gesture extended by Major General (Retd) Zaitsev.