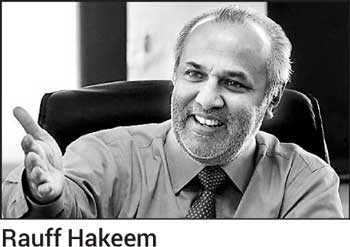 The Sri Lanka Muslim Congress (SLMC) yesterday said mainstream media has a duty and an obligation to help the country and communities to regain composure, reason and civic solidarity after the recent difficult events.

Releasing a statement, SLMC leader Rauff Hakeem said the party humbly appeals to the professionals in mass media to avoid unjustified and needless emphasis on mundane events that serve to promote majority hatred towards the Muslim community.

The SLMC leader's statement is given in full below:

Following the mindless carnage on Easter Sunday, which no doubt was the work of some extremist Muslims, the vast majority of the Muslim is marooned in bleak world of anxiety and fear.

Today, the Muslims of Sri Lanka have to undertake a painful journey of introspection to discover why and how we have arrived at this critical point of peril. We can only do that if we are allowed the space to undertake that task of self-discovery in an atmosphere of tolerance and empathy, instead of constant demonising of the community in the mass media. Some mainstream media 'cover up' and galvanise open threats of violence by Sinhala Buddhist extremists with no filter or qualm. The politically driven media houses sanction provocation of one community against the other, not because they promote conflict, but solely with the idea of embarrassing the Government and the political parties in the ruling coalition. Some mainstream media conjure up issues of Islamophobia, promoting insidious collusions, and give damning verdicts to those it decides to persecute, even before the law could take its course.

When the Government adopts measures to contain public anger provoked by political interests, the media has the crucial responsibility to differentiate between revanchism and rhetoric.