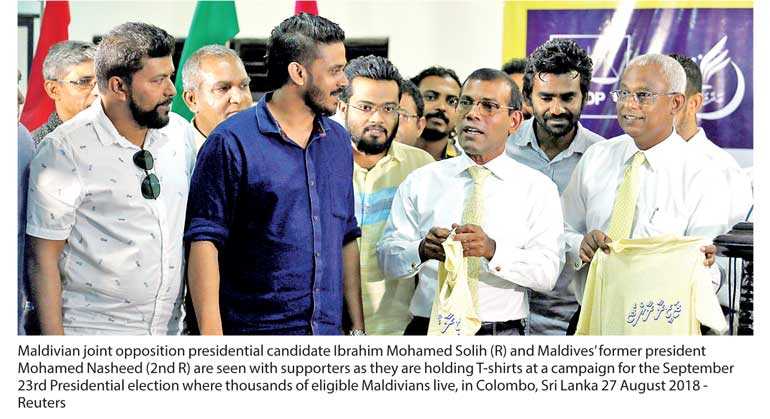 COLOMBO (Reuters): The opposition presidential candidate in the Maldives has said he does not expect a September election to be free and fair but trusted voters to decide on his challenge to President Abdulla Yameen, who imposed a state of emergency this year.

Yameen is seeking a second five-year term in the tropical tourist paradise riven by political instability since a police mutiny forced its first democratically elected leader, Mohamed Nasheed, to quit in 2012.

The Indian Ocean archipelago of 400,000 people has faced upheavals since February, when Yameen imposed the emergency to annul a Supreme Court ruling that quashed the convictions of nine opposition leaders, including Nasheed.

Veteran lawmaker "Ibu" Mohamed Solih, who is challenging Yameen in a coalition led by the main opposition Maldivian Democratic Party (MDP), spoke to 400 citizens resident in Sri Lanka on Monday. "We are very worried about the situation," Solih, who was first elected to parliament in 1994, told reporters in Colombo, the Sri Lankan capital, ahead of his campaign meeting.

Asked if he expected the election to be free and fair, he replied "No," but added that the opposition placed "very much trust" in voters in its battle against the government.

Solih's party estimates about 30,000 Maldivians live in Sri Lanka, forming one of the largest blocs of overseas voters.

The opposition has accused the Maldives government of locking up most of the leaders who could challenge Yameen's bid for re-election, an accusation the government denies.

"We are also very aware that President Yameen is going to rig it as much as he can," Nasheed, who also attended the meeting, said, referring to the election.

"But when people come overwhelmingly, there is very little he can do. We are going to win this election."

Government spokesman Ibrahim Hussain Shihabon said in a statement Yameen's administration "will not exceed its constitutional mandate" and would not unduly influence the election in any way.

Responding to Solih's remarks, the Maldives ambassador to Sri Lanka, Mohamed Hussain Shareef, said: "The opposition is crying foul as an exit strategy and ploy to save face internationally for when they are eventually defeated."

Nasheed was convicted of terrorism charges in 2015 and sentenced to 13 years in prison after a widely criticised trial. In 2016, he was allowed to go on medical leave to Britain, where he received political asylum. Since last year, he has been in Sri Lanka, working to unite opposition parties to defeat Yameen.

Nasheed was the sole candidate when the MDP held a primary election in May but the election commission ruled that he was not eligible to stand..

Opposition parties then fielded Solih as their candidate.