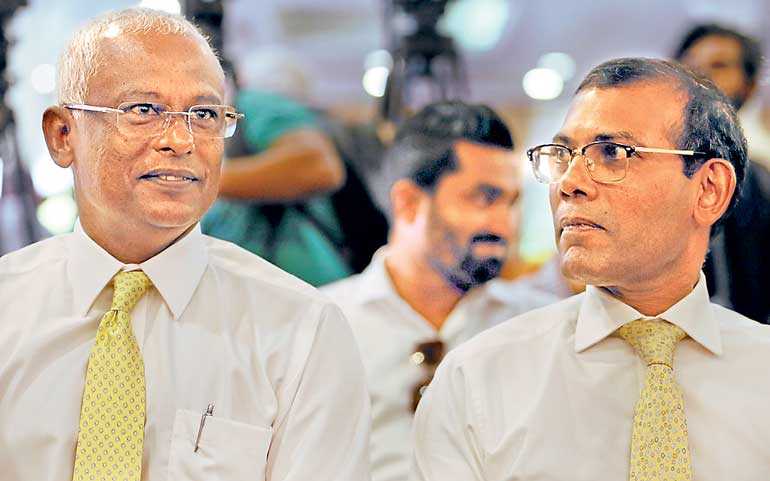 Maldivian Joint Opposition Presidential Candidate Ibrahim Mohamed Solih (left) looks on next to Maldives' former President Mohamed Nasheed at a campaign for the 23 September Presidential Election, Colombo, Sri Lanka, 27 August 2018 – REUTERS
AFP: The main Opposition leader in the Maldives vowed on Monday to mobilise voters at home and abroad to overcome alleged rigging of next month's elections and topple strongman President Abdulla Yameen.

Ibrahim Mohamed Solih, who is backed by the archipelago nation's four main Opposition groups, flew to neighbouring Sri Lanka to galvanise expatriate Maldivians.

The 54-year-old said he did not expect a free and fair election on 23 September, but was confident that voters would come out against a regime which is also facing international censure.

"We are very worried about the situation, but we have trust in our people," Solih told reporters before addressing hundreds of Maldivians gathered in the outskirts of Colombo.

"Our people are ready for change," he said.

The crowd included a large number of political activists who have lived in exile since Yameen took power in 2013.

Solih is endorsed by former President Mohamed Nasheed, who is in self-imposed exile himself after being handed a controversial terrorism conviction and a 13-year jail term in 2015.

The UN has described Nasheed's trial, which disqualified him from running in the election, as politically motivated.

Nasheed told reporters in Colombo Monday that Yameen was "trying to rig (the elections) as much as he can".

"But when people come in overwhelming numbers, there is very little anyone can do," he said.

The Indian Ocean country of 340,000 people has been on edge since Yameen – who has jailed or exiled almost all his opponents – imposed a 45-day state of emergency in February.

Nasheed lost the last elections in 2013 in controversial circumstances.

The Supreme Court annulled the results of the first round of voting when Nasheed was in the lead.

The subsequent vote was then twice delayed, allowing Yameen time to forge alliances that helped him narrowly win the contested run-off.

Solih and Nasheed's Maldivian Democratic Party have vowed to clear the way for all political dissidents to return if victorious.

The US and European Union have expressed deep concern over Yameen's actions, and rights activists have called for sanctions on the President and his aides.