Says he was acting in post till Director returned from overseas training
Previous Director has now returned and resumed duties
---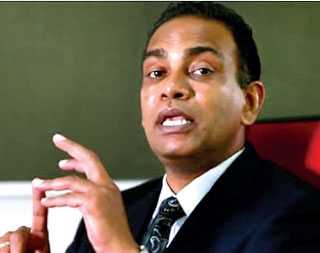 Dr. Jayaruwan Bandara
---
The removal of Dr. Jayaruwan Bandara from the post of Acting Director of the Medical Research Institute (MRI) was in keeping with due procedure in place at MRI, Parliament was told yesterday.

State Minister of Prison Reforms and Prisoner Rehabilitation Dr. Sudarshini Fernandopulle said that Dr. Bandara had been acting as the Head of the MRI, while the doctor who had previously held the post had gone overseas for training.

"The doctor who was undergoing a training program was the director appointed to the MRI by the Public Service Commission. In his absence Dr. Bandara was acting on his behalf. Now the director has returned, so the acting director has to leave. There is no issue, it was only the procedure," State Minister Dr. Fernandopulle said.

She said so in response to a question raised by SJB Kurunegala District MP Thushara Indunil Amarasena, who demanded to know the reason behind Dr. Bandara's transfer.

"Ven. Muruththettuwe Ananda Thero, a leading monk who openly supported the SLPP to come to power, is now stating that not even the Health Minister was aware of the transfer of the head of the country's premier research institute functioning under the Health Minister. That has become a serious issue. We want to know what is happening," Amarasena said.

Prime Minister Rajapaksa said that the question should have been referred to the subject minister.

As Health Minister Pavithra Wanniarachchi was not in the Chamber, State Minister Fernandopulle responded on her behalf.