Says only SLPP capable of addressing youth issues
Charges previous administration with engaging in political revenge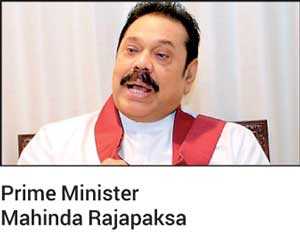 While pledging to address youth issues, Prime Minister Mahinda Rajapaksa yesterday called on young people supporting the United National Party (UNP) to join the Sri Lankan Podujana Peramuna (SLPP), to form a strong Government to develop the country.

The SLPP Prime Ministerial candidate expressed these views at a rally held in Kottawa, where Rajapaksa noted that young people should join with the camp that will develop the country, and address youths' issues to improve citizens' living conditions.

"Youth should stand with us and not with the camp that is at Sirikotha. The youth should look at the broader picture and decide what is best for the country's future, and who has committed to develop the country and address youth issues," he said.

Rajapaksa charged that the previous administration failed to address youth issues or develop the country, and they were more interested in political revenge. In his view, the country was led to a difficult stage during the former administration. He noted that under a SLPP Government, development would be the main focus and no one will be a political victim.

He pointed out that the previous administration had shown that the President and Prime Minister should hold similar political ideologies to attain development goals. The SLPP Prime Ministerial candidate noted that during the previous administration, the President and Prime Minister had a deep rift between them, which affected the entire country.

"We have to learn from the past, especially the previous administration. It is important that the President and the Cabinet hold similar political ideology. Therefore only a SLPP Government will enable President Gotabaya Rajapaksa to fully implement his policy statement."

Referring to past achievements, Prime Minister Rajapaksa said they have shown their potential when they were in power. He noted they were able to rebuild the nation, even after the tsunami devastation, and end the thirty year long war.